The Court of Appeal has today afternoon ruled that former Principal Accountant in the Office of the Prime Minister, Geoffrey Kazinda was wrongly convicted and erroneously served a 5-year term that was handed to him by the Anti-corruption court on charges of abuse of office and forging the signature of his former boss and Permanent Secretary ius Bigirimana.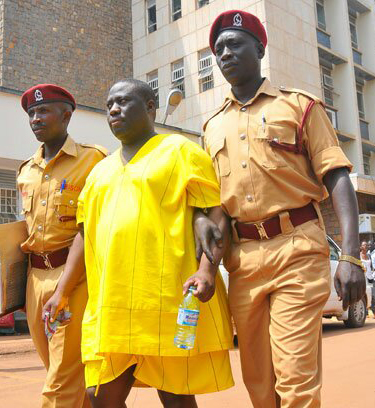 However, the acquittal comes after Kazinda has already completed his sentence, and is presently battling other corruption-related charges for which he is still incarcerated.
Geoffrey Kiryabwire, Stephen Musota and Percy Tuhaise are the justices who have ruled overturning Kazinda's conviction, after faulting trial High court judge David Wangututsi of failing to properly evaluate the evidence adduced before him before he erroneously found Kazinda guilty of abuse of office, forgery and being in unlawful possession of government stores.
Court concurred with Kazinda that police and prosecution did shoddy investigations that failed to prove that the cash withdraws forms and security papers bearing a forged signature of Mr Pius Bigirimnana were indeed found at the home of his(Kazinda 's ) mother Ms Teopista Nanfuka.
"According to the evidence on record, there was neither a search certificate nor any photographic evidence tendered in court showing how the police search team retrieved the cash withdraw forms and security papers from a room at Nanfuka's residence," court ruled.
The ruling added: "In absence of this photographic evidence, the documents which formed a  basis of these charges could have been  planted by the search team which went to search his mother's home with documents in  a bag and an envelope."