President Museveni has ridiculed Kyadondo East Member of Parliament Robert Kyagulanyi popularly known as Bobi Wine as a clown. The Head of State has asked Bobi Wine to stick to Music saying he cannot manage Politics.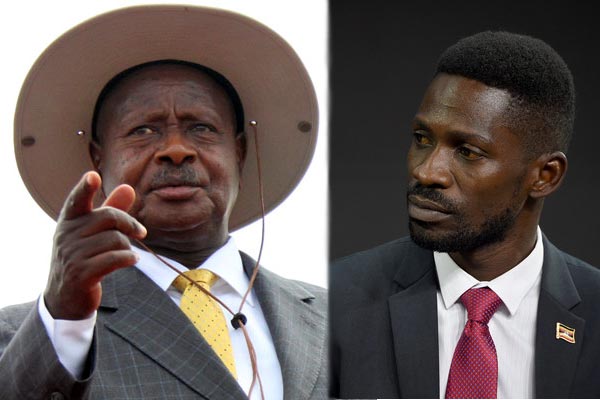 President Museveni made the remarks at State House Entebbe while meeting Kampala City youths whom he gave Shs 2.5b for self-help projects.
"Bobi Wine is an artiste. This (politics) isn't singing. If you are an artiste, go to Suzanna (nightclub) in Nakulabye," President Museveni said.
Suzanna was a popular discotheque in the 1970s.
The self -proclaimed Ghetto President recently declared that he is going to contest for President in 2021. The 37 year old is going to stand against President Museveni who has held the position from 1986.
According to Museveni, all the people (Amama Mbabazi & Francis Babu) that he entrusted the Kampala Youth with neglected their needs and forced the youth to join the opposition due to lack of jobs. He further says he has taken up the mantle to help the youth in the city.
The youth who were made up of NRM and opposition asked Museveni to contest again for Presidency in 2021.
The President blamed Bobi Wine for drawing the youth into violence which he says has affected the country's image and investment. He added on that he has no issue working with People from the Ghetto because they are in one place making it easy to mobilise them.
According to Museveni, Bobi Wine who has been claiming to be President of the Ghetto is only using the Ghetto people for riots.

"People you have trusted (with leadership) have betrayed you. When my people relaxed, you voted for (Nasser) Ssebagala, he didn't work for you. You voted (John) Ssebaana. … Ssebaana's work was only to sell market and parks …," he said.
"Your artiste, when he was in West Nile, the soldiers boxed him. Oh! They really reported to the Whites. They think the Whites are gods. I called the soldiers to tell me. They said they beat him because he beat them first when they went to his room where he was hiding. I told them there is no case,"
Speaking on how Bobi Wine was man handled in Arua he said his soldiers only beat Bobi Wine because he beat them up first. The president further on branded the opposition as murders though he did not mention or they killed.
"I can't tell my grandson to go into danger because I want power." He said
.