A 3-year-old Nubian goat named Lincoln is the new honorary mayor of Fair Haven, a town in the U.S state of Vermont, and was officially sworn into office earlier this week. And the new mayor made her first piece of news by promptly defecating in public, leaving city officials to clean u the mess.

Lincoln was dressed in a sash reading 'Mayor' for the Tuesday ceremony at the Fair Haven town offices. Town Clerk Suzanne Dechame and the select board were present to deliver the oath of office.
Lincoln had to sign paperwork for her new title, so Dechame provided an ink pad. The goat used her right hoof to stomp a 'signature.'
On the way out of the offices, the honorary mayor defecated on the floor – leaving clean-up to the police chief and other attendees.
Fair Haven, a town of about 2,500 along the border with New York just west of Rutland, does not have an actual mayor. Town Manager Joseph Gunter holds the office charged with the functions that mayors elsewhere perform.
When Gunter read in a newspaper that the village of Omena, Michigan, had made Sweet Tart the cat its 'top' official, he got the idea to organize a similar election to raise funds for building a playground.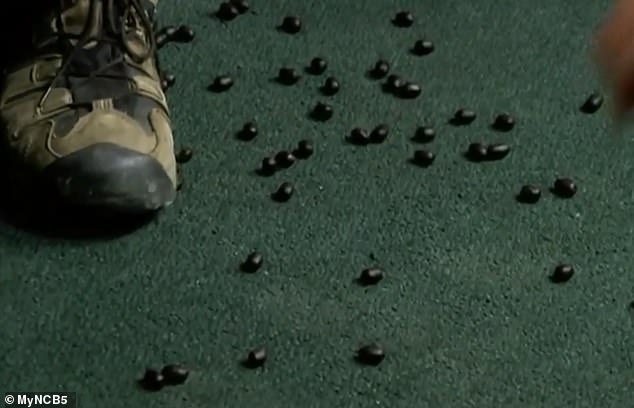 Sullivan Clark, the four-year-old grandson of a resident called Chris Stanton, nominated Lincoln the goat for the role. On the March 5th poll, Lincoln was victorious over 15 other candidates including Crystal the gerbil and many dogs and cats. Lincoln's 13 votes were enough for him to squeak past Sammie the dog.
The goat's owner Chris is a school math teacher, and apparently the goat mayor will get an education in the town's major festivals which it will represent during its one-year mandate: 'Memorial Day parade, the Apple Fest and the events we organize every Friday in the summer,' Gunter says.
Although the playground fundraising effort only generated about $100, at five dollars per candidate, Gunter isn't bleating because he says the animal election was also 'a good way to get the kids involved in local government.'
With 53 votes cast the turnout was low, Gunter admits, 'but it was the first time, we expect it to be better next year.'
That happens to be the year that US voters will also elect a human president, in a contest expected to shake out like a barnyard brawl.
Gunter shared a GoFundMe aimed at raising money for the playground, using the town's newly elected official as the 'face of our fundraising efforts.' 
They have managed to raise $890 of their $70,000 goal.