In the wake of the latest Uganda Cranes call-ups for the game against Tanzania this weekend,  many players who are favourites of local football fans found themselves missing out (for many of them, yet again). It's against that background, that Matooke Republic has compiled an entire team of those popular stars of Ugandan football who missed out (only the local-based, because the majority are local based).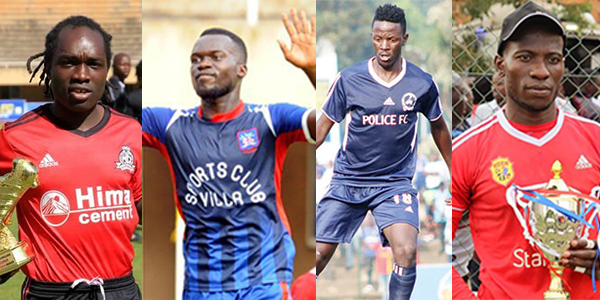 Not that we think this team we have come up with might magically find itself playing Tanzania this weekend, in place of the one that is presently camping in Egypt. But because we realize that these players who missed out are so good they can on their own make a strong Uganda Cranes team on any given day. Even more significantly, these players make for a fertile fishing ground from which gaffer Desabre should pick replacements for those who get injured or lose form. You must acquaint yourself with these players.
GoalKeeper: Charles Lukwago
For his consistency in the KCCA FC jersey, Charles Lukwago should have a solid argument for inclusion in the Cranes squad today. But then Denis Onyango, Jamal Salim and Robert Odongkara aren't only very gifted, they are also very experienced professionals playing outside the country. Lukwago is therefore a good bet for the future, even currently a good alternative in case one of the three is to be injured. The KCCA stopper should continue understudying the three seniors, especially given Onyango has hinted that he is soon retiring.
Defenders;Kizza Mustafa (KCCA FC), Rashid Toha (Onduparaka FC), Mbowa Paul Baker (URA FC), Obenchan Filbert (KCCA FC)
After Isaac Muleme and Joseph Ochaya left KCCA FC for greener pastures, new breed Kizza Mustafa convincingly filled the void they left behind regarding the best local-based left-back. Kizza hasn't won himself the nickname 'assist king' for nothing, as his marauding runs up and down the flank have made him the most creative defender in the local league over the last two seasons.
For anyone who has seen him play, Onduparaka's Rashid Toha is as good as KCCA's Timothy Awanyi –physical, strong, good at reading the game. The only difference is that Awanyi is calmly waiting on the Cranes bench while Toha is waiting from further afar out of camp. But given he's currently part of U-23 set-up, Toha will surely graduate to the senior team.
URA FC is one of the least-conceding teams in the 2018/19 Uganda Premier League, and a great percentage of the credit for that goes to Mbowa Paul Baker who has been a rock in their defense. He is rock-solid.
Obenchan Filbert has been one of the unsung heroes at the heart of KCCA FC's defense this season, especially after the team lost Benard Muwanga (another remarkable lad who on his part had broken into the Cranes squad) to a long-term injury. He's tough as nails, has a great work-rate and scores headers.
Midfielders; Eyam Ivan (Mbarara City FC), Micheal Birungi (Express FC), Poloto Julius (KCCA C)
Mbarara City wouldn't have stood out this season if it wasn't for the individual brilliance of some players, and Eyam Ivan is foremost among those. He has been the accelerating engine in their midfield pack, with his box-to-box play starting attacks and breaking those against the team. He's also created and scored some goals.
If they are to be asked to speak out, probably all teams that have played Express FC this season would testify that Micheal Birungi has been a formidable force for the Wankulukuku-based side, and that he's one of the major reasons Express have this year been better than last season. A good dribbler with a fine creative brain on his shoulders, he's been knocking on the Cranes door sometime now, and with age on his side he might soon break in.
Julius Poloto has come through the ranks together with Allan Okello every step of the way, and now they are arguably the two biggest products of KCCA FC's conveyor-belt over the last few years. Okello has finally smashed the Cranes front-door to get in, and it's surely only a matter of time before Poloto breaks in too. Gifted with an exceptionally deft touch, versatile as he can comfortably and productively play any attacking position, Poloto is indubitably one of the country's greatest hopes.
Forwards; Balinya Juma (Police FC), Serunkuma Daniel (Vipers SC), Bashir Mutanda (Sc Villa)
The moment coach Desabre confirmed his final squad with none of them making the cut, this attacking trio –which is currently leading the UPL scoreboard– stirred heated debate among Ugandan soccer fans.
Juma Balinya has quickly showed himself ready for bigger challenges after netting 16 goals for Police FC so far this season, which makes him the leading topscorer, and he should be a handful for any defence anywhere on the continent. Clinical in front of goal, he is also a poetic dribbler who can rely on all of skill, physique and quick-thinking.
Mutanda is seemingly the only good thing happening at SC Villa this season, and that alone should say more than enough about hi. Not to mention that he has led the topscorers' charts until very recently when Balinya went on rampage to overtake him. A hardworker who doesn't give defenders time to breather, he is good at finding spaces and shoots on target.
Now a veteran who doesn't have the years on his side if he is to ever become a fixture on the Cranes squad, Sserukuma is another nightmare for any defender. Strong, restless and gifted with enough skills to put the ball wherever he wants it under his feet, his greatest strength is an eye for goal –able to score from any range around the box.
Subs; James Alitho (URA FC), Madondo Joel (K-Jinja SS), Owori David (SC Villa), Paul Mucureezi