The Gulu University Electoral Commission has blocked the nomination of Imuran Ntambazi Java, one of the students who showed interest in contesting for the 2019/2020 Guild presidency, reportedly for identifying himself with People Power.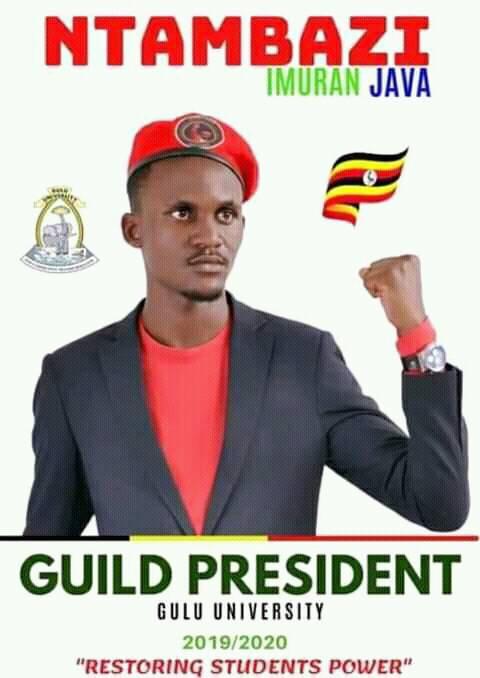 Java, 21, a second year student pursuing Bachelor of Science in Computer Science, had identified himself with People Power, the pressure group associated with Kyadondo East legislator Robert Kyagulanyi, alias Bobi Wine.

However, on Saturday when he went for nomination, the returning officer of the university's electoral commission, Mr Edmond Okello, blocked Java –telling him he had not met the minimum requirements to be nominated.
Okello later said that they stopped Java's nomination on advice from the university's Dean of Students. He further said they believe he was not recommended because he [Java] had earlier identified himself with People Power, yet the university's constitution does not allow political affiliations.
He, however, said four other candidates were successfully nominated, adding that the processes went on without interruption.
The nominated candidates are Alexander Okidi, a Second-year student pursuing Bachelor of Development Studies; Samuel Oyet Agwani, a Second-year student pursuing Bachelor of Arts, Education; Johnson Nowe, a Third- year student of Medicine and Surgery; and Moses Etyak, a Second-year student of Bachelor of Computer Science.

However, Mr. Tonny Olanya Olenge, the chief strategist for Java, said they are planning to sue the university's Eectoral Commission for unfairly blocking their candidate.
"What they did is unfair to us, they stopped our candidate from contesting simply because he identified himself with the People Power pressure group which is not a political party," Mr. Olenge said.

Voting will take place on April 7, after two weeks of campaigns, according to the university's Electoral Commission. At least 4,500 students are expected to vote.