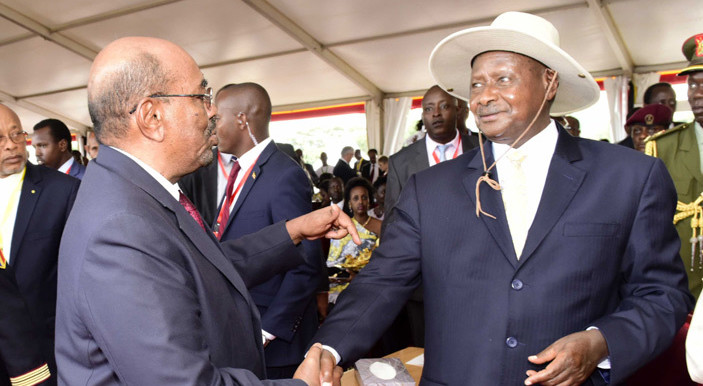 Following the political transition sweeping across Africa that has seen some of  the longest serving Presidents stepping down with Sudan's President Omar Al- Bashir being the latest President to step down after Sudanese nationals camped outside the Military Headquarters in Khartoum demanding his resignation, we present to you the list of the longest serving presidents;
Omar Al-Bashir, President of Sudan
Omar Al-Bashir was in power for over 30 years. However, he was ousted today after Sudan Nationals outcry to Military to intervene and have the long serving president out of power.
President Bashir took over power in 1989 from the government of Prime Minister Sadiq Al- Mahdi in a bloodless military coup.
After seizing power, Al- Bashir dispersed all the political parties in the country, disbanded the country's parliament and shut down all the private owned media outlets.
Bashir is still wanted by the International Criminal Court for instigating crimes against humanity.
Bashir stepped down earlier today after riots by Sudanese nationals forced the Military to get involved.
Yoweri Kaguta Museveni, President of Uganda (33 years)
President Museveni came into Power in 1986. He came into power after a guerilla war. Despite high levels of corruption and unemployment, the country is expressing peace unlike the times of his predecessors whose regimes were full of insecurity and war. Museveni has so far ruled Uganda for 33 peaceful years.
The ruling party, National Resistance Movement (NRM) recently announced that President Museveni is the sole NRM cadre and will be contesting for Presidency come 2021.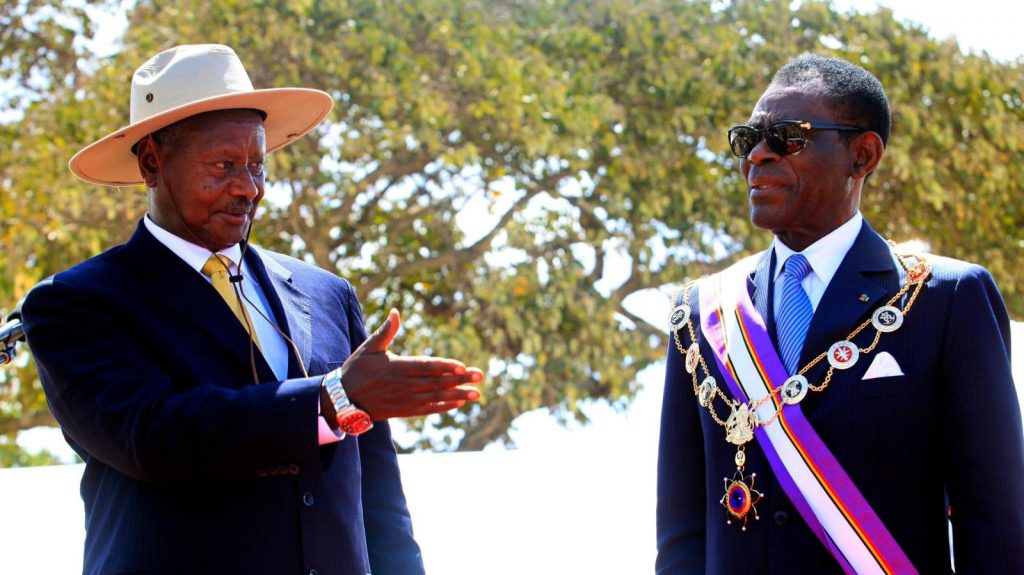 Teodoro Obiang Nguema Mbasogo, President of Equatorial Guinea (40 years)
President Obiang is Africa's longest serving ruler. He has ruled Equatorial Guinea since August 1979. Obiang came into power after he overthrew his uncle Francisco Macías Nguema, in a bloody coup d'état. Equatorial Guinea is rich with oil, and many other minerals. Obiang will be making 40 years as the President of Equatorial Guinea in August this year.
It is believed that the President's first son Teodorin Obiang is next in line to succeed his father.
Paul Biya, President of Cameroon (35 years)
President Paul Biya is the President of Cameroon, a post that he has held since 1982. The 86 year old President succeeded Ahmadou Ahidjo who surprisingly resigned in 1982. Biya is currently the oldest ruler in the Sub –Saharan Africa after Robert Mugabe stepped down during the 2017 Zimbabwean Coup d'etat.
Denis Sassou Nguesso, President of the Republic of Congo (20years)
The 76 year old Congolese Politician has been the President of the Republic of Congo since 1997. He was previously President from 1979 to 1992. During his first regime he headed the Single Party regime of Congolese party of Labour for 12 years.
He later introduced multi-party politics in 1990 and was stripped of his executive powers by the 1991 National Conference. He later stood as a candidate in the 1992 presidential election but was defeated.
After being defeated, Sassou Nguesso became an opposition leader for five years before returning to power. His rebel forces ousted President Pascal Lissouba in a civil War (1997-1999).
Idriss Deby Itno, President of Chad (27 years)
President Idriss has been the President of Chad since 1990. He took power at the head of a rebellion against President Hissene Habre and has since survived various rebellions against his own rule.
He is a graduate of Muammar Gaddafi's World Revolutionary Center. Idris is remembered for urging African leaders that conflicts around the continent had to end by either diplomacy or force.
"We must put these tragedies of our time. We cannot make progress and talk of development if part or our body is sick. We should be the main actors in the search for solution to Africa's crises," He said.
Isaias Afwerki, President of Eritrea (24 years)
President Isaias Afwerki is Eritrea's first president since the country got its independence in 1993. He led the Eritrean People's Liberation Front to victory in May 1991 thus ending the 30 year old Eritrean War of Independence.
President Isaias 's Government was in 2015 accused by the United Nations panel for violating human rights. According to Amnesty International the government has imprisoned over 10000 political prisoners. It also claims that torture that involves punishment, interrogation is widespread.
However the Eritrean Government refuted the allegations and in turn accused Amnesty International for supporting a political agenda of "regime change."