Despite being a renown President Museveni and NRM fanatic, events promoter and businessman Balaam Barugahara has indirectly criticized the way the Police handles opposition figures, in particular Kyadondo East Member of Parliament Hon. Robert Kyagulanyi Ssentamu alias Bobi Wine.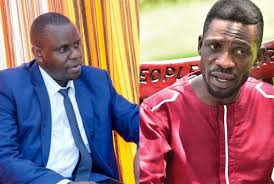 Balaam has as such advised the Police not to be too harsh in the way it handles opposition figures, even when arresting them.
"Bobi is a brother, a parent and a role model to the masses, and therefore deserves to be treated with respect, even when arresting him," the legislator said to the media today.
Balaam adds that the Kyadondo East legislator is capable of becoming someone bigger than expected.
"Bobi is opposition today, but tomorrow he can be the main head in government. He should be arrested decently," Balaam said.
However still, Balaam yet again reminded the opposition figure to oppose the regime within legal parameters without causing any breaking the law or havoc.
Bobi Wine has recently been experiencing frosty relations with security operatives, who among other things blocked him from holding music performances before putting him under house arrest at his home in Magere.