Following the recent repeated arrests of People Power leader Robert Kyagulanyi alias Bobi Wine over unlawful public assemblies, President Yoweri Kaguta Museveni yesterday issued a statement on his website and social media platforms, condemning the manner in which the Police has recently arrested Bobi Wine, as well as offering guidelines to politicians on how they can have lawful assemblies.
The president also cautioned politicians to make sure they only hold 'legitimate assemblies', and that only afetr liasing with the Polcie and receiving permission.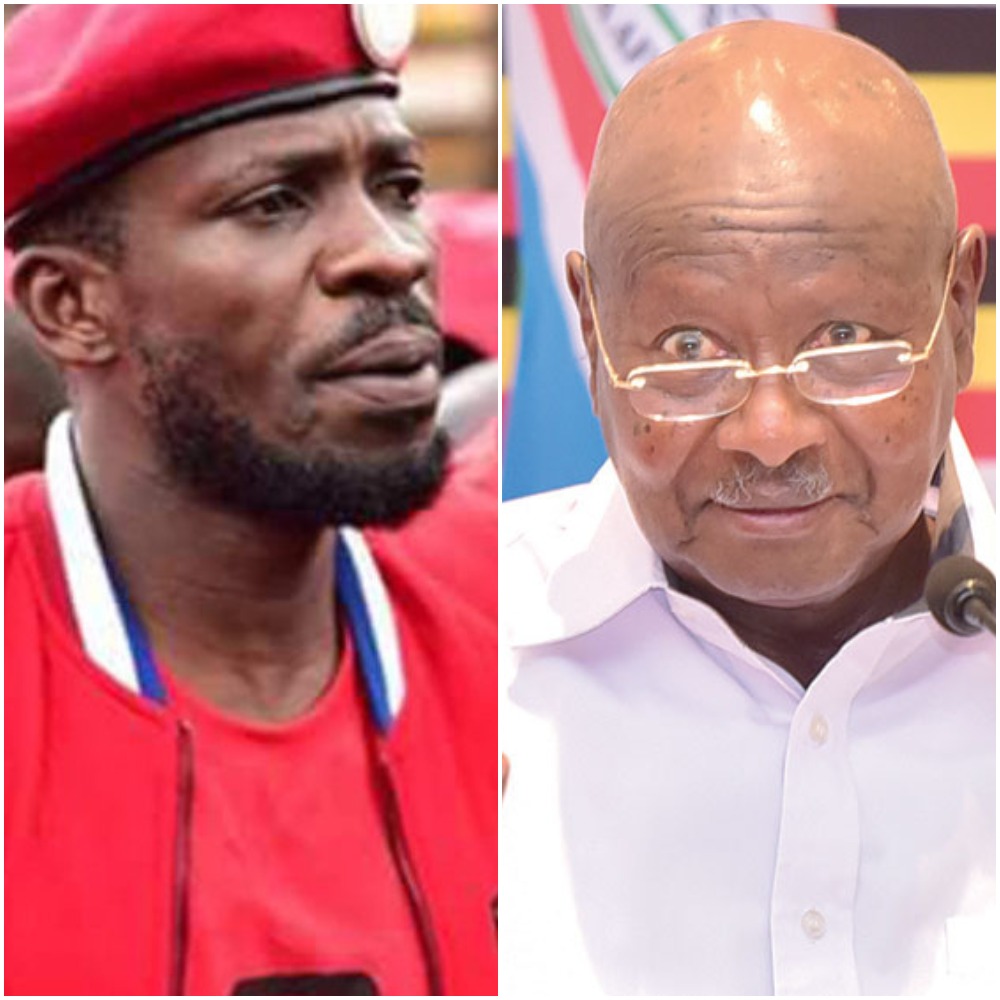 Now the self- proclaimed Ghetto President and singing politician has responded to the president.
And according to Bobi Wine, the Head of State is hypocritical, using forceful means to frustrate the opposition while speaking as though he cares.
"It is such a shame that you send criminals in police uniform to commit crimes against citizens but you come out verbally criticize them but still take no action." Bobi Wine stated.
Reckoning that'the blatant lies and contradictions' from the President should not go unchallenged, the Kyadondo East legislator sought to inform the president that many people find it offensive each time he (Bobi Wine) refers to him (Mr. Museveni)as the President, because of how much they have lost trust in him (President Museveni). Bobi Wine, however, said that he continues to address him as 'President' because he respects him as an elder.
"We have nothing against you as an individual. We have everything against how you have mismanaged and continue to mismanage the affairs of our country."  Bobi Wine wrote.
"In addressing you with respect, we make it clear that your attempt has fallen flat. Your actions, however brutal, will not divert us from our course of action." Bobi Wine said, saying that "the atrocities the President commits against those who criticize him are a deliberate act intended to make them bitter people.
Bobi Wine went ahead and told the president that he has chosen to betray the blood of the people that sacrificed their lives for him to attain  power.
"You have chosen to completely betray their blood." Bobi Wine wrote, adding that even the war veterans are not happy with the leader. He referenced Gen. Sejjusa and the late Seargent Kifulugunyu, whom he says at the time of his death was carried to the hospital using a wheel barrow since there was no ambulance to take him.
According to Bobi Wine, even the war veterans have now been driven to saying that they didn't go to the bush to install Museveni as the king of Uganda.