While the public exchange of words with his estranged wife has subsided, it would seem that the 'marital war' itself is far from over for the leader of House of Prayer Ministries International, Pastor Aloysius Bugingo.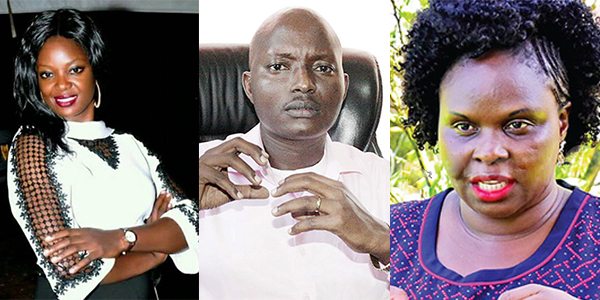 Word reaching us is that while his wife Teddy Naluswa Bugingo still refuses to agree to a divorce, Pastor Bugingo will this week file with court for an end to his marriage to Teddy. Sources close to Pastor Bugingo say the preacher has already determined to do whatever possible to have his 30-year marriage to Teddy nullified.
The sources also indicate that like Mrs. Bugingo and her daughter alleged in media interviews last week, Pastor Bugingo's push for an official separation from his longtime wife is so that he can have a clear highway towards marrying his new catch Susan Makula, an employee of Salt TV. Apparently, Pr. Bugingo has even already set the dates for his introduction and wedding with Susan, August this very year for the introduction and October for the wedding.
In a related development, yesterday during the Sunday service at Canaan Church, Pr. Bugingo apologized to his congregation and to the nation at large for bringing the institution of marriage into disrepute last week, when he publicly exchanged 'ugly words' with his estranged wife. However still, one of the most salient features of the preacher's apology was how he referred to 'future inlaws' and 'future children' –words which some people have said were well-calculated by the pastor to indicate that he is soon going to have new in-laws and new children (ideally from a marriage to Susan Makula).
" I have kids, some of them unknown to you and I am still producing more… I will not say another word that will hurt the future of my own children, my future in-laws…"
Here is a long quotation of the apology Pr. Bugingo made yesterday:
"I grew up in a family of married people. My father and mother too were married. In such pastoralist families, they usually had old sticks which they kept, not for rearing cows, but to take care of children and wives. But I never heard my [foster] mother Bereta, even once talking about this among neighbours. Therefore, for my foster family and my parents, both of which families I respect a lot, I want to apologise to the nation. God raised me from the dunghill. He who brought my name from there, I will not do anything that will tarnish the name he gave me. I also apologise to the men and women who are hurting and those who are here, who suffered through last week having to hear my name over and over.  I HAVE KIDS, SOME OF THEM UNKNOWN TO YOU AND I AM STILL PRODUCING MORE . And to all those children, in school or unborn, I want to assure you that if I was able to be silent for all those years, from today, I will not say another word that will hurt the future of my own children, MY FUTURE IN-LAWS, and my grandchildren," Pastor Bugingo is quoted saying before boasting that his conflict with Naluswa has helped grow his church- both in terms congregation and financial collections."