If you're a Ugandan fan of Hollywood TV drama series Power, you might now find even more reason to love and follow the series. Matooke Republic has learnt that British actor
Micheal Rainey Jr, who plays the role of Tariq St. Patrick (son of Tariq Ghost) in Power, is dating UK-based model of Ugandan heritage Eva Apio, daughter of retired supermodel Eva Mbabazi.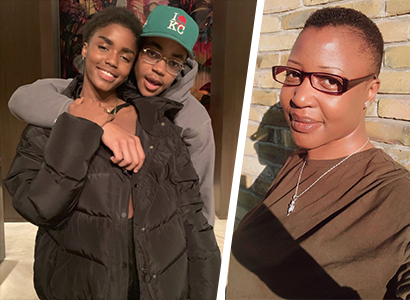 The couple has taken to splashing their love all over their social media pages, and interestingly Eva Apio's mother Eva Mbabazi seems to be encouraging the relationship as she posted on her Facebook wall asking people to let the children be.
18-year-old Michael Rainey is rated as one of the fastest-rising stars of Hollywood presently. Having starred in projects like 'Orange is the New Black' (as Micheal Burset), 'The Butler' (as lead character Cecil), 'The Barbershop' and 'Second Chance Christmas', the young man is estimated to be already worth about Shs4 billion ($1.2million). It is believed he earned Shs 220 million ($65,000) for his role in the movie Barbershop.
While on her side, Ugandan-born Eva Apio has taken after her mother Eva Mbabazi's modelling paths. She is signed to a London based model agency Storm Models.
Eva Mbabazi is one of the most popular (and arguably successful) on the long list of Uganda models mentored by Sylvia Owori between the 1990s and 2000s. Having participated in the Miss Uganda pageant in 1994, she was able to use her modelling resume to climb heights that included relocating to the UK to walk the runway there and later starting her own modelling and fashion initiatives, such as Eva Models and Face of Uganda.