The Uganda Police Force has today heaped more praise on opposition politician Gen. Mugisha Muntu, who is set to soon launch his new political party, Alliance for National Transformation (ANT). By way of the force's spokesman, Commissioner of Police (CP) Fred Enanga, saying the opposition politician has a holistic style of leadership, "unlike Dr. Kiiza Besigye and Patrick Amuriat who are stuck with their defiance."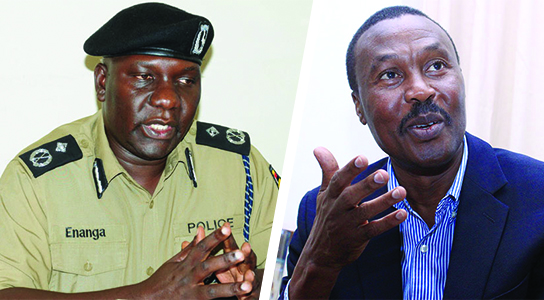 This adds onto the praise which Uganda Police gave the opposition politician in a circular it published yesterday indicating that they have cleared activities for the launch of his new political party. In the circular Uganda Police praised Mugisha Muntu for co-operating perfectly by indicating all the details of his planned meetings in advance, and urged other opposition politicians to pick a leaf from the bush war hero.
In his message today, Police Spokesperson CP Fed Enanga has said that unlike other political groups, ANT wrote to them early enough informing them of their plans to organize a promoters' meeting.
"ANT has Gen. Mugisha muntu who has a holistic style of leadership. He always wants to harmonize his actions so that there's no conflict. His leadership style differs from other political leaders like Besigye and Amuriat, who employ defiance," Enanga said.
Enanga said that he thinks ANT is commendably moving within the lines of the controversial Public Order Management Act (POMA), which empowers police to regulate any kind of gathering. The Police spokesman says POMA offers no hiding space for any political party.
"POMA doesn't work in isolation. We (Police) have a constitutional mandate to maintain law and order. So while, many political parties are concerned about why permission has to be from the IGP, that's exactly what the law states," Enanga said.
Nevertheless, the Police spokesman revealed that the implementation of the law will once again be discussed in the next Inter-Party Dialogue (IPOD) meeting –where the different political parties in the country meet to discuss the issues affecting them.