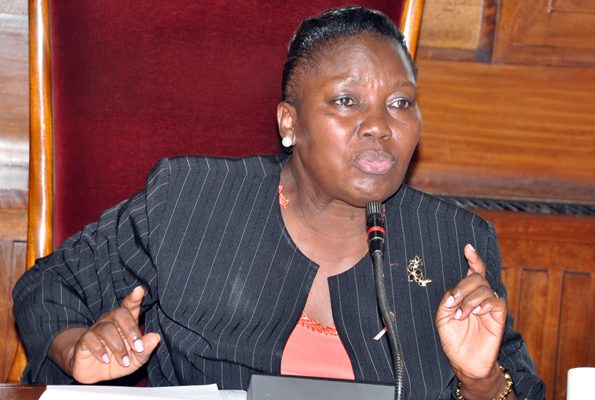 Speaker of Parliament Rebecca Kadaga will not give a go-ahead to the Committee on Commissions, State Enterprises and Statutory Authorities (COSASE) that has been plotting a re-examination of a probe into Bank of Uganda officials in relation to the closure of seven commercial banks that had been concluded by its predecessors.
Kadaga's press secretary Sam Obbo has confirmed the development.
"The Speaker disagrees with what's going on and she has said she is going to write officially and stop him (Mubarak Munyagwa." Obbo said.
Last week Munyagwa's Cosase committee met BoU officials led by Deputy Governor Louis Kasekende and he formed a sub-committee led by his deputy Ibrahim Kasozi (Makindye East), to among other things ask for accountability for Shs498billion that was allegedly sunk into Crane Bank to "keep it afloat" when BoU took over its operations in October 2016.
Munyagwa's predecessor Abdu Katuntu had concluded a three-months probe into BoU which found that the officials couldn't account for the Shs498billion. His committee also recommended compensation of the owners of the closed banks as BoU officials did not follow due processes. It was revealed during Katuntu's probe that some banks were sold via mobile phone by former Executive Director in Charge of Supervision Justine Bagyenda.
Several MPs including Nandala Mafabi (Budadiri West), Simon Oyet (Nwoya County), Deogratius Kiyingi (Bukomansimbi South) and Hanson Obua (Ajuri County) were opposed to Munyagwa's move of reopening a concluded probe saying it was against Parliamentary rules of procedure and they also construed it as a chance Munyaga was giving culpable BoU officials to "fake accountability" and "erase their guilt."
Several whistle blowers including Micheal Busingye and Sam Kakuru who called themselves concerned citizens also separately petitioned Kadaga not allow Munyagwa's probe to go on as it was a waste of time and taxpayers' money.
The speaker has granted the petitioners their wish and Munyagwa and his committee now have to focus their efforts on other.