Frida Nabirongo is a woman in distress after Standard Chartered Bank has moved to take over her empire over a mortgage for a building that houses her Senana Hypermarket on Buganda Road.
"Take notice that Standard Chartered Bank Uganda Limited through its appointed agent shall after 5 working days from the date of this notice, proceed to exercise the mortgagee's power to take possession of the mortgaged properties comprised in; 1) Kibuga Block 3, Plots 57,701,702 Makerere 2) Kibuga Block 20 Plot 1067 Busega, 3) FRV 355 Folio 21 Plot 21-27 Buganda Road in accordance with the Mortgage Act 8 of 2009," a July 1 notice from Standard Chartered's lawyers Sebalu & Lule Advocates reads.
Nabirongo is lamenting that Stanchart is moving to take over property she has worked for over the years and is hoping Bank of Uganda and or President Museveni can intervene because she feels she was tricked by some of the clauses in the loan agreement. She says she was paying up to Shs700m a month and she went to the commercial court over the said clauses in the loan agreement and she is surprised that while the case is ongoing, the bank is moving to take her property.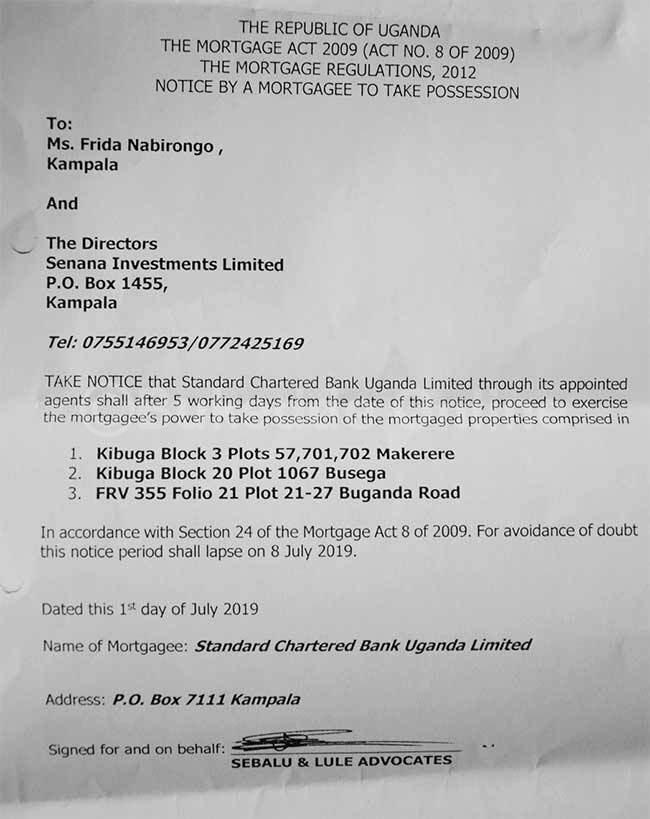 The genesis
Several business people in Kampala are still mourning the closure of Crane Bank and Nabirongo is one of them.
She initially acquired a 20.5b loan from Crane Bank to develop her property on Buganda Road. However, as the project went on, she realized she needed more money and approached Standard Chartered Bank who agreed to settle the Crane Bank loan and advance her more money to complete her project.
Nabirongo says that in as much as she had been given 10 years to clear her loan with Crane Bank, she was shocked when the Standard Chartered loan documents indicated she had to pay Shs6.5b in just five months.
The businesswoman says that she used the Buganda Road title to acquire the Crane Bank loan and it was moved to Stanchart when they took over the loan. However, she adds that she gave the bank the other two properties in question as security for a new loan which they didn't advance her.
She adds that she Stanchart also secured Shs1b for her from Orient Bank where she had three land titles deposited. The agreement was that whenever she paid Stanchart, 15% would go to settling Orient and Stanchart would retain the rest.
Along the way, Nabirongo got lost in the contracts jargon and decided to go to court because she felt she was tricked. She says that prior to going to court, she tried to approach Standard Chartered because she was "no longer understanding how things were moving". She didn't get a response and the client relationship manager she worked with had since exited the bank.
She said she also approached Uganda Development Bank whose mandate is to provide investors with low-interest loans but she didn't get any help. Now she is appealing for government intervention saying her supermarket is also struggling as she gets all supplies on loan and pays later. She adds that her over 100 workers are bound to lose their jobs.