Leaders of the Pentecostal Movement of Uganda have denounced Pastor Aloysius Bugingo over public utterances regarding his marriage.
In a statement, the movement condemned Pastor Bugingo for refusing to recognize or subscribe to any umbrella of the organization that brings together Evangelical and Pentecostal Churches.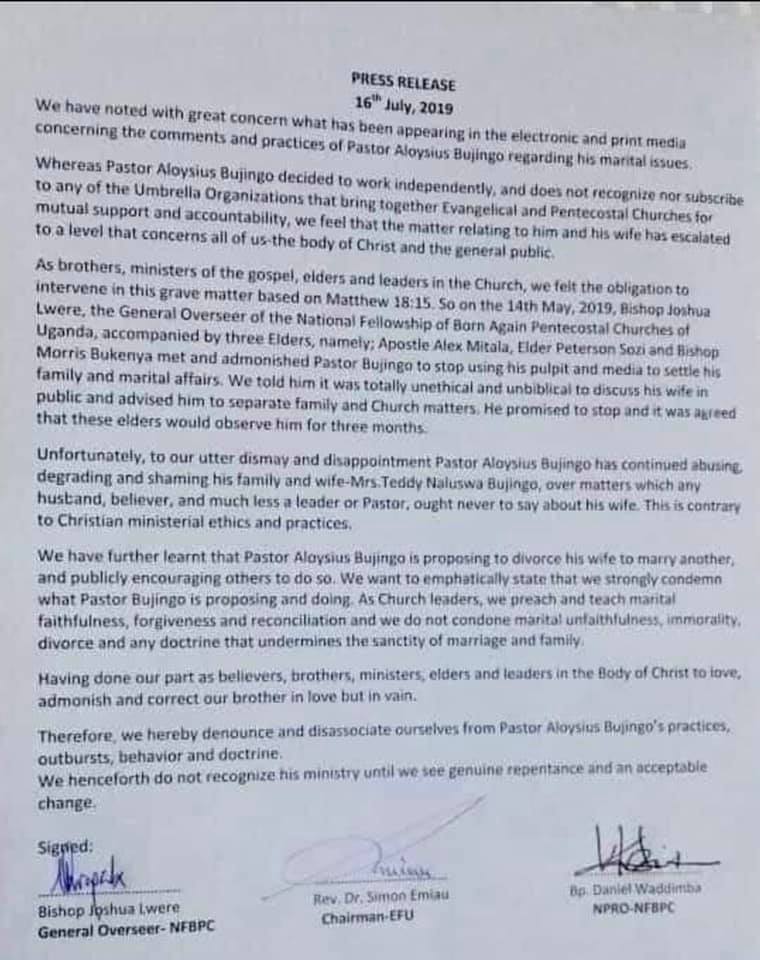 However, the movement claims that the ongoing saga between Bugingo and wife Teddy Naluswa concerns them as an organization.
"As brothers, ministers of the Gospel, elders and leaders in the church, we felt the obligation to intervene in this grave matter based on Mathew 18:15. Bishop Joshua Lwere, the General Overseer of the National Fellowship of Born Again Pentecostal Churches of Uganda, accompanied by three Elders, namely, Apostle Alex Mitala, Elder Peterson Sozi, Bishop Morrison Bukenya met and admonished Pastor Bugingo to stop using his pulpit and media to settle his family and marital affairs. It is totally unethical and unbiblical to discuss his wife in the public," reads part of the statement.
The movement also discouraged Bugingo's choice to divorce Nasulwa saying he must obey the bible preaching that calls for reconciliation and forgiveness. They said from now onwards, Bugingo is not part of them until he 'cleans his house.'
"We henceforth do not recognize his ministry until we see genuine repentance and acceptable change," they said.