Away from the crown who is Oliver Nakakande
Well when I auditioned for Miss Uganda, I was 24 I just had my birthday on July 4 so I am now 25. I was born in Wakiso District and I am currently a marketing student from Middlesex University in Dubai.
Isn't being Miss Uganda going to affect your studies
No, I will now study online.
Last year Quiin Abenakyo presented a beauty with a purpose project that saw her win the head to head challenge, crowning her Miss Uganda. What is your beauty with a purpose project?
Well because there is a very big legacy that Abenakyo has already built I am just going to build on what the former queens have done. There's no specific project that they haven't done yet so I am only going to build on the legacy and keep going with what they have already been doing.
Won't that be a challenge presenting the same project at Miss World?
No, it won't be a challenge because there is still need to work on those projects and it's not only one project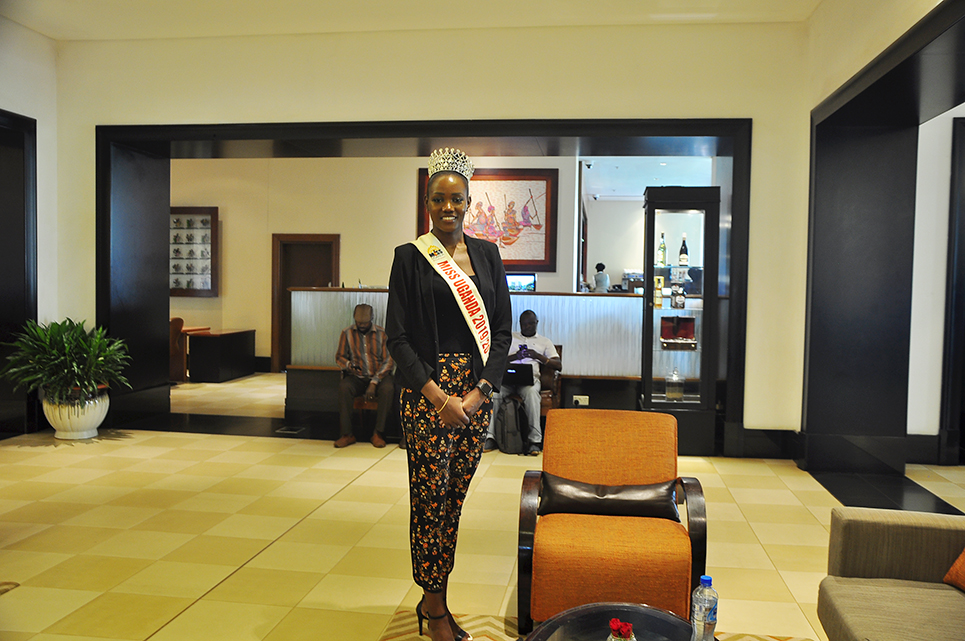 22 contestants, one winner. What do you think made you emerge winner?
Every girl was smart, talented and beautiful from the outside as well so I think I paid a lot of attention especially at the boot camp. They were teaching us a lot of things and remember boot camp alone pretty much determines Miss Uganda. Because we were there for 3 months they used to see how we behave and treat each other, what we do exactly. I think I took everything serious from the boot camp and I stood out.
If you were the judge, who would you crown Miss Uganda among the other contestants
Why are you asking me that question it is really tough, But if I was a judge I think I would request for the possibility to get 22 crowns and crown each one of them because we are all queens. And yes my 21 sisters are all queens
What's your message to the girl child?
To the girl child the important thing is keep in school because without education nowadays it is really hard out there so keep in school and listen to your parents. Please don't go running around with boys. The key is to keep in school.
Speaking of Education give us a brief background to the schools you went to
About my education, I went to Kawempe Church of Uganda Primary School. For my O' Level I went to Helm Senior school in Mukono, Faiha High school along Gayaza road for my HSC and I am now at Middlesex University, Dubai Campus.
If you're not studying, what do you do?
If I am not studying then I am pretty much in my free time going to the gym, working out, swimming. Those are the things I do.
What are your hobbies?
I love swimming; I love gym I work out like every second day of the week. I love listening to motivational speakers, every morning I listen to motivational gospel music and I love reading while travelling.
What inspired you to join Miss Uganda?
A lot of factors inspired me to join, growing at home they used to say "she is a model, she is a queen, and she is a princess." I grew up hearing those words and because I am very passionate about hearing such things about me. So when I was a teenager, I opened up my Facebook account and I started following charity organisations, beauty pageants and that is how I started following Miss Uganda. I have been following Miss Uganda picking up information from other beauty queens so I was inspired by so many things.
Before you joined Miss Uganda, were you a model?
No, I wasn't. What I used to do in Dubai I was a casting model but I had never been on a runway before but I was doing ads for companies.
Aside from building on Abenakyo's legacy, what should we expect from?
First of all I am five days old (into being Miss Uganda) but we will sit with Miss Uganda Foundation and work out something special. But it won't be there to beat what Abenakyo did. This year we are building on her legacy.
The country should expect the Miss World crown from me. Look, Abenakyo Miss World Africa has brains and I have my brains too so when we come together, I am sure we are going to bring that crown home.
What don't people know about you?
People don't know that I have a big heart but I am yet to prove to them because when they look on the outside everyone has their own impression. People need to know the inside of me not the outside but I am yet to prove it to them.
How does it feel like being the Miss Uganda?
Overwhelming. From Friday I haven't had enough sleep with my other contestants. I think I need a month to adjust. I am just new to this. In just these few days I have met so many prominent people in the country, I have got so many offers so far it is treating me well.
Tell us about your family
I come from an extended family, my mom passed away and my dad is still around. My dad is called Vvumba David. From my mom and dad we are six children and I am the sixth.
When you auditioned did you expect to win the crown?
Well we had classes about positivity and believing in ourselves but when they read the read 9 girls and I wasn't part of them, I had given up. I was number 10 on the top ten list. I was ready for anything but I was very nervous.
We have seen so many young female celeb nudes go out, should we expect yours anytime soon?
I think I respect my body and I cannot do anything like that because posing into the camera when I am naked doesn't make sense because I know how I look. I can't do anything like that.
What is that one thing that you regret from your past?
I think it is about self-belief, I didn't believe in myself and I regret it. I wish I had believed in myself earlier enough I would be very far because the sky can't be the limit.
Abenakyo has had issues with the government to the extent of failing to feature in the Uganda Tourism campaigns despite having done so well on the World stage. How do you hope to deal with government better in order to use your new role to promote your country and its abundant beauties effectively?
First of all I don't know what happened but I think Miss Uganda Foundation is in touch with the right people in the government.
Which beauty queen has inspired you the most?
All of them
Fiona Bizzu; I love how she speaks, since I had issues with public speaking.
Leah Kalanguka; I love the fact that she is natural.
Leah Kagasa is the friendliest one.
Sylvia Namutebi is super supportive she keeps you going.
Stella Nantumbwe; I haven't met her but I have seen her on Instagram and I love her beauty
Abenakyo is like a whole package; she is full of joy, very welcoming and humble
Being a beauty queen comes with expectations, Have you been bullied or felt any fear
I haven't been bullied, I am a positive person. I focus on the positive vibes because if you read everything on social media you can put down your crown and run.
What is your biggest fear?
Last year my fear was water depth, I used to fear darkness but this year I overcame them.