Seasoned opposition politician Rtd. Col. Dr Kizza Besigye has been honoured with the African Hero Award at The Voice Achievers Award ceremony held last evening at Louis Leaky Hall, National Museum, Nairobi, Kenya.
The four-time presidential candidate has for long used his voice to advocate for rule of law, democracy, freedom of speech and peaceful leadership change in Uganda. This has not been done without a cost, as he has been manhandled and arrested more times than any other person in Uganda.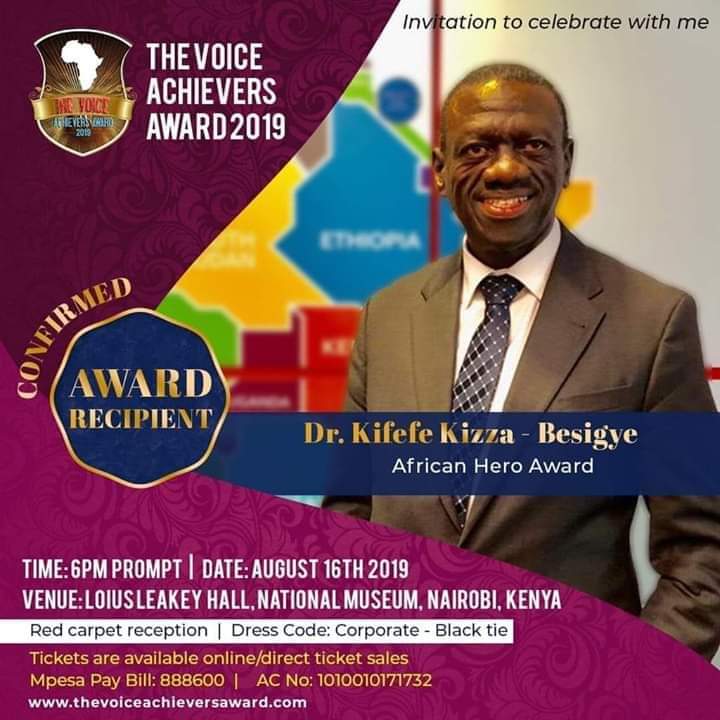 Through all the struggles with security operatives, Besigye has refused to give up his cause and continues to be an active critic of the incumbent and his leadership, that he considers not ably serving the interests of Ugandans, but only a few people in top government positions.
Besigye accepted the award in presence of his wife the newly appointed UNAIDS Executive Director Winnie Byanyima and his son Anselm Besigye.
He thanked God for the feat, and congratulated Byanyima upon her UN appointment.
The Awards were founded by Rev. Elvis Iruh and they focus on honouring people who have contributed to the advancement of Africa politically, socially and economically. The Voice Achievers Awards are organised by Voice Magazine, a publication based in Netherlands.