Self-proclaimed 'Hot temper' Moses Golola over two weeks ago humiliated his opponent Umar Sematta when he knocked him out in the third round of the World Federation of Martial Arts title fight dubbed 'Fight of the Century' at Freedom City.
Prior to that, Golola had promised to beat the crap out of Semata and shave off his beard using punches. The motor-mouthed kick-boxer kept up part of his promise and was crowned winner on the night.
Today morning, Golola and his manager Innocent Kawooya presented his championship belt to the Deputy Speaker of Parliament Jacob Oulanyah at Parliament.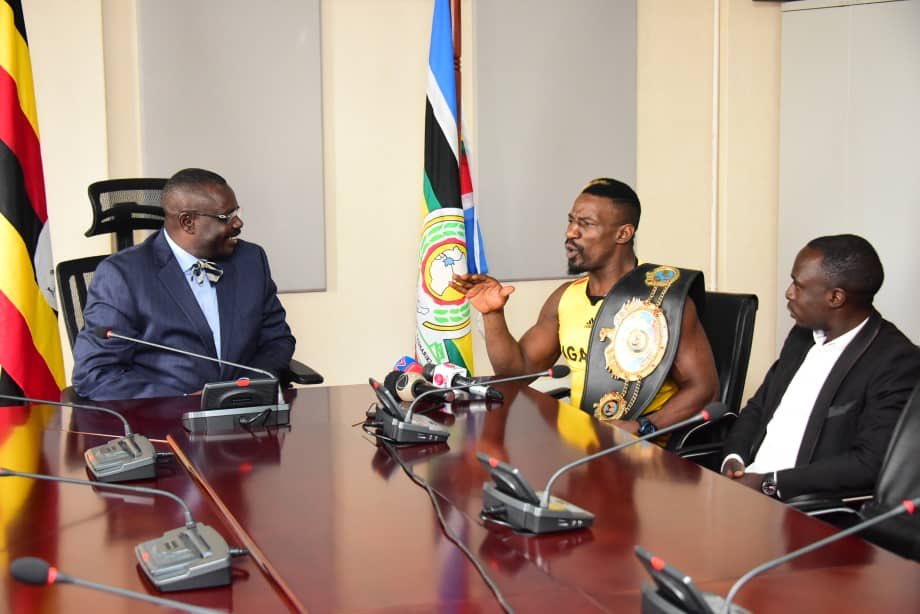 Oulanyah congratulated Golola upon his win, and pledged to help the World Kickboxing Champion achieve his dream of setting up a kickboxing academy called Golola Talent Academy that will nurture new kickboxing talent and offer training in self-defence.
"Hard work forever pays. Big congratulations to World Kickboxing Champion #MosesGolola. Golola dreams of Golola Talent Academy; we will strive to make it a reality. Glad to see that the early morning 4:00AM "jab jabs" are paying off. Onwards, upwards," Oulanyah tweeted.
The academy will also have a state of the art fitness center. Golola is hugely credited for having single-handedly reviving the sport and inspiring others to join it in the country.