The government of Uganda is no doubt the big dog of the region when it comes to International Relations. In the recent past, Uganda has mediated peace talks between warring parties in neighbouring countries like the post-election violence in Kenya in 2007, the South Sudan fighting between President Salva Kiir and Riek Machar, being part of the African Union peacekeepers in Somalia, and most recently, generals from Sudan were here asking for President Museveni's wise counsel about how to go about the power transition in Khartoum
Having established themselves as the big peace advocates in the region, Uganda is now looking further than just Africa. Yesterday, the Ministry of Foreign Affairs released a press statement pronouncing Uganda's position in the ongoing disputes between People's Republic of China and Hong Kong.
Currently, people in Hong Kong are protesting a proposal that will allow criminals extradited to mainland China for prosecution under some circumstances. The proposed bill was introduced in June and sparked off protests, with Hong Kong feeling this could undermine their judicial independence.
"Uganda firmly supports the 'One country, two system' policy of the People's Republic of China on the matter of Hong Kong and other areas. Hong Kong is a part of China. Hong Kong's affairs and China's domestic affairs," the statement from Ministry of Foreign Affairs reads.
It should be remembered that Hong Kong became part of China just recently in 1997 after more than 150 years of being a British Colony.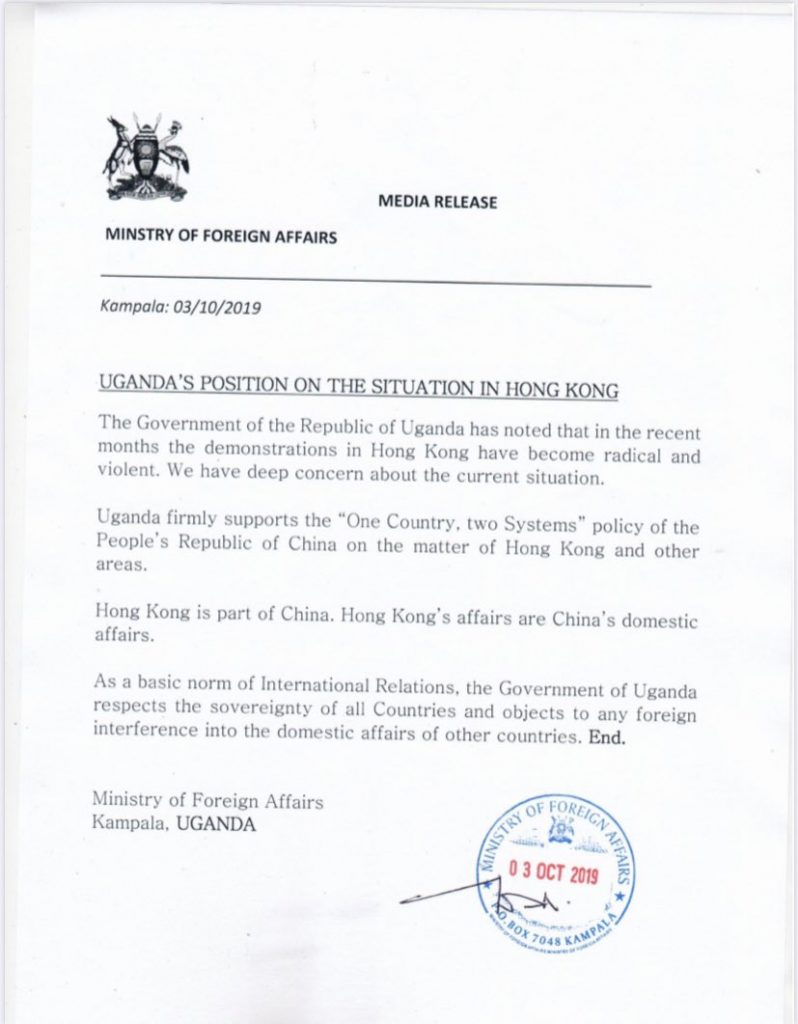 China and Hong Kong are operating under a 'One country, two systems' deal which means that they have some powers to handle some of their economic, judicial and political business without the need for mainland China to interfere.
Uganda and China are enjoying good relations that have culminated into the far-east nation take up big construction projects in the Pearl of Africa, so this statement is no surprise then.