News broke recently that Dfcu was exiting 22 branches, part of it's countrywide network inherited from their purchase of Crane Bank. While Dfcu downplayed the news, saying they were not closing any branches, the news actually wasn't in branch closure but exiting properties belonging to tycoon Sudhir Ruparelia and his Meera Investments.
The latest news coming in is that Dfcu is actually not exiting 22 branches they are seeking to relocate but a total of 48 properties owned by tycoon Sudhir who used to be the Crane Bank Vice Chairman.
Dfcu had transferred the properties to their names on the ill advice of their lawyers Sebalu and Lule Advocates shortly before court declared them conflicted and unfit to represent the bank against Sudhir because they had served as his lawyers.
Following Sudhir's August court victory over Bank of Uganda and Crane Bank (in receivership) where BoU had alleged that the tycoon syphoned Shs397b out of his Crane, an allegation Sudhir rubbished as preposterous, court also ruled that Crane Bank could not have owned the properties in question as a non-citizen (Crane Bank whose majority shareholding was foreign) could not hold freehold land, it automatically meant the properties in question belong to Sudhir.
Now, rather than wait for the inconvenience and embarrassment of being thrown out of the branches, Dfcu is executing an exit plan. The bank has decided to exercise a clause in the Crane Bank purchase agreement that said if the central bank, failed to hand over to Dfcu, vacant and freehold possession of 48 properties that previously housed Crane Bank branches within 24 months, Dfcu Bank had the right to return the leasehold titles to BoU and claim compensation.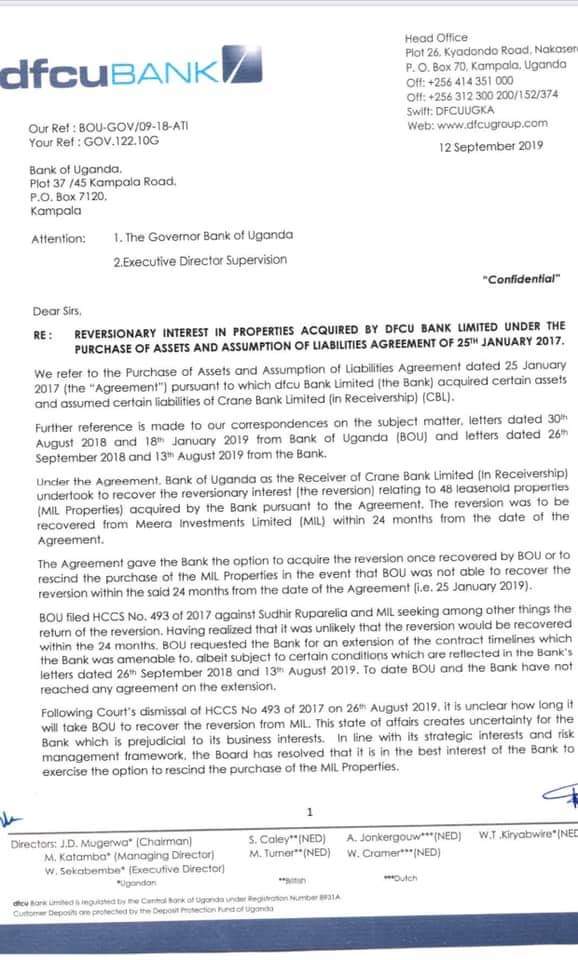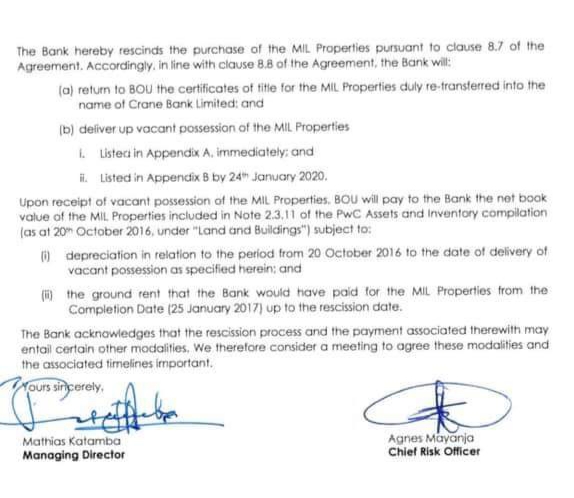 Dfcu paid Shs10b for the properties but want a compensation of Shs47b, which would cause the taxpayer a loss of Shs37b. This is because the sale agreement said that on return of the properties, Dfcu would be compensated with a portion of the purchase price equivalent to the netbook value of the properties included in Note2.3.11 of the PWC Assets and Compilation as at 20th October 2016, estimated at about Shs47bn.
This fact alone points to several irregularities and possible corruption among the sellers and the beneficiaries of the bank, something the Auditor General alluded to in his report on the sale of Crane Bank.
In his report the AG pointed out the anomaly of Dfcu, the Crane Bank buyer also being the valuer! More to this, they got a "sweet deal", purchasing Crane Bank at only Shs200b, payable over 30 months and without interest, which already cost the taxpayer Shs39b.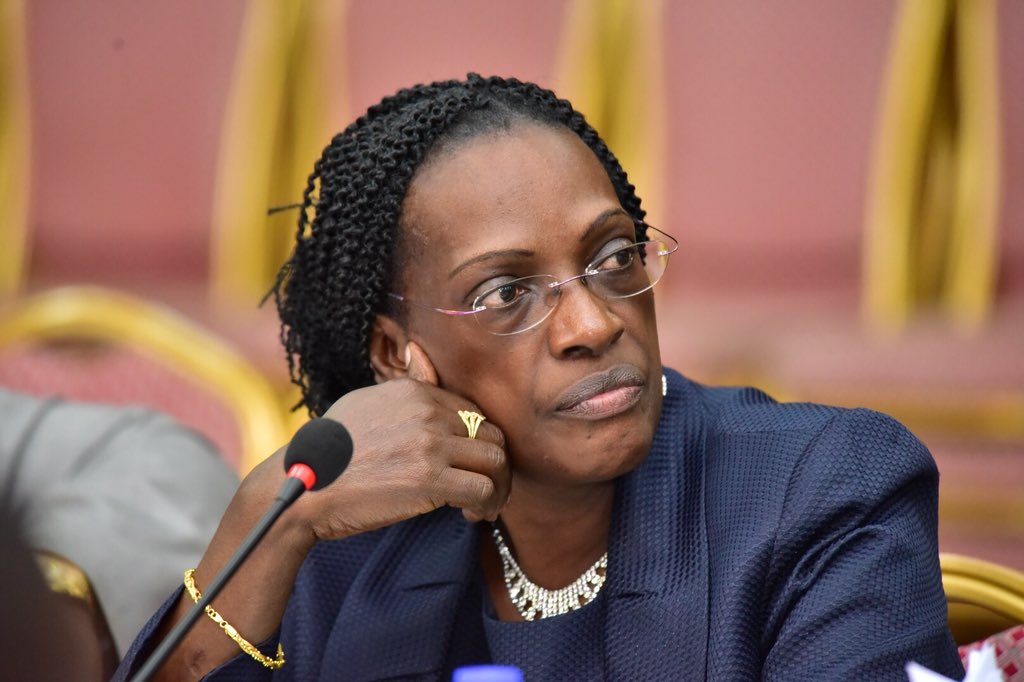 As the days of reckoning come, Dfcu will have vacated all Sudhir's properties by 24th January 2020. But they must also cough several billion shillings in rent arrears over the period of time they illegally occupied the tycoon's properties.