Uganda Management Institute (UMI) has for the second time organised an International Conference on governance and service delivery in developing countries under the theme 'Accountability, Innovations and Quality Public Service Delivery.'
The five-day conference will start next week on Tuesday October 22, and run all through the week to Saturday October 26, 2019 at Hotel Africana in Kampala, Uganda.
According to UMI, the conference will provide opportunity for scholars, students and practitioners from diverse disciplines of public management to explore avenues for improvement of accountability, innovations and quality of service delivery in developing economies.
More than 40 speakers from different ministries, academic institutions, international companies and public servants are confirmed to speak at the conference giving findings of their research and devise means through which developing countries can improve their governance and service delivery.
The conference will be chaired by Catherine B. Musingwiire, the Permanent Secretary Ministry of Public Service and President Museveni and the former president of South Africa Thabo Mbeki are expected to give keynote addresses at the conference.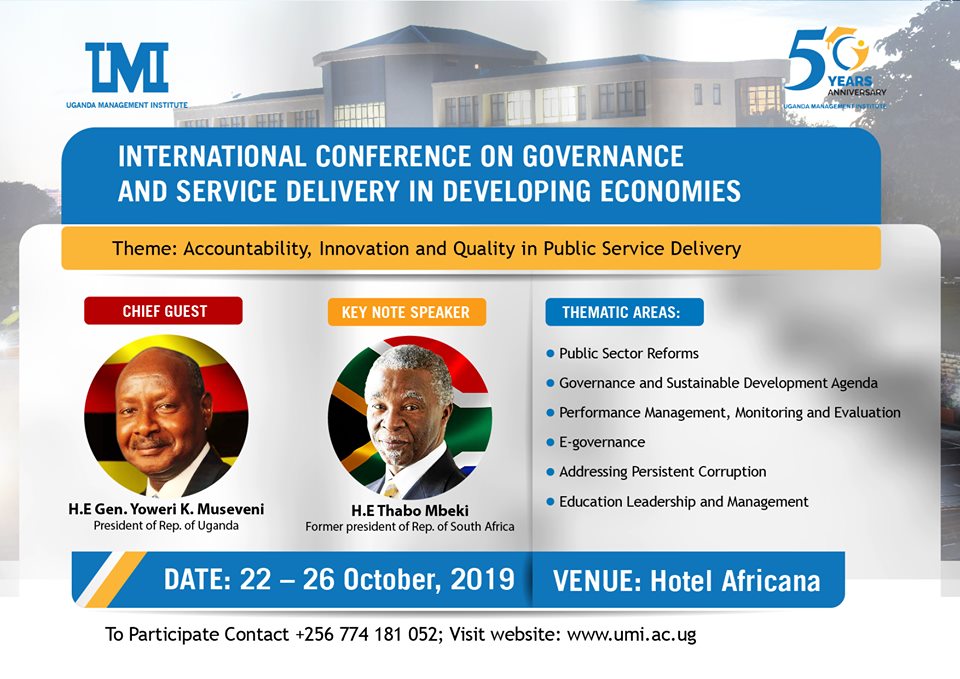 Other notable speakers include;
Political analyst and veteran journalist Andrew Mwenda who will tackle corruption and service delivery in Africa
Godfrey Ssemagoma from the Ministry of Finance talking about FMIS and service delivery
George Nathan Bamugemereire (IGG) talking about innovative strategies to anti-corruption  in Uganda
Julius Kapwepwe from Uganda Debt Network giving insight on budget monitoring
Lillian Tamale from ACODE will deliver a  speech on local government score card  and
Dr. Gerald Werikhe of African Leadership Institute (AFLI) taking attendants through the Parliamentary Score Card.
UMI organised this International Conference with her partners Uganda Registration Services Bureau (URSB), UN Women, Centenary Bank, and Government of Uganda among others.