Early last week, Abryanz Styles and Fashion Awards released a list of the 2019 100 movers and shakers of the Ugandan social scene named The starz. The list caused uproar on social media as fans were not happy about the Moslem cleric Muzaata missing out on the list.
The carefully selected stars are individuals who have repetitively made headlines in the news throughout the year. The celebrities that made it to the list will be contacted individually and tipped off on their walk of fame at the event that is slated to take place on Friday December 13 at Kampala Serena Hotel.
From emotionally traumatizing Rema's babydaddy Eddy Kenzo to baptising him a love nigga and being called all sorts of names like"semyekozo", Sheikh Muzaata's calmness amidst the abuses and unwillingness to apologise to Kenzo is one thing we can never forget about the 2019 stories.
Muzaata's name dominated the news following his remarks on Eddy Kenzo during the first official visit (Kukyala) of Rema's husband Hamzah Ssebunya on independence that threw Kenzo into rage, with the artiste vowing never to perform in Uganda again.
It is this kind of buzz Muzaata raised that his fans (yes he has fans) feel he should have been included on Abryan's 100 Stars list.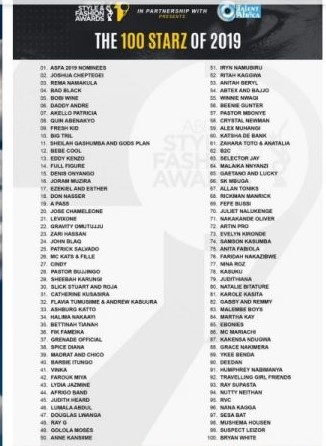 This year, the Ciroc-sponsored Abryanz Styles and Fashion Awards red carpet ceremony will feature a line-up of over 100 celebrities that were carefully selected by the ASFAs team and Talent Africa Group.