If there is a social media page that is raising the eyebrows of many Ugandan music lovers now, it is King Saha's and it is not about music. The "Nkwagala omu" hit singer has lately gone on a bad behaviour spree which by the look of things was sparked off by the popular "Bebe Cool list" after he was given a warning for not performing according to the required standards by the Gagamel impresario.
This series of rants started off on social media with a post of shock and surprise over the fact that Bebe Cool had given the crooner a warning. He then took the attack personal and told Bebe Cool not to concentrate on other people's music yet he has his own. Most of his fans were siding with him because to them, he seemed to be operating within the boundaries of logic.
However, fans were triggered when King Saha sounded of a canon of irrationality declaring that he would unveil a list of the most foolish artists of the past decade. Many warned him to keep off intoxicants if he was using any with many citing the green leaf as the most possible. Others said he was depressed due to lack of hit music and told him to stop his bad manners.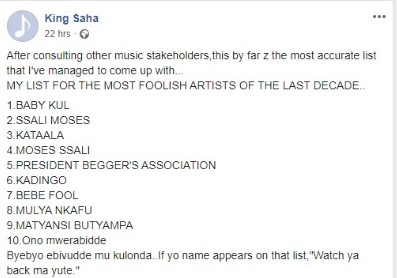 Upon releasing the list, it insinuated all sorts of Bebe Cool titles, from his real name, to official stage name to names his arch nemeses have christened him over the years and all this made Saha's top list of foolish artistes of the last decade.
This was simply it for most fans. They could not take it; they let down a baptism of fire on him about respecting elders with most serious comments pointing towards him having to change his bad manners for better and to refrain from the green herb.