As 2021 draws closer, political parties are organising themselves carrying out meetings and conferences so that the general elections find them in the right shape to scoop leadership positions in this country.
One such party is the ruling party National Resistance Movement (NRM) that has a National Delegates Conference scheduled for January 25, 2020 at Mandela National Stadium in Namboole.
During the NRM press conference yesterday, NRM Secretary General Justine Kasule Lumumba said that rebel Members of Parliament; those that have on several occasions disagreed with some party decisions are not welcome at the Conference.
Today, the Party's Director of Legal Services Oscar John Kihika disagreed with Lumumba, and wrote to her to inform her that there is no law under the NRM constitution that bars them from attending the conference, since they are still considered to be party members.
"As you are aware, the 30 NRM Members of Parliament were entitled to attend the upcoming National Conference by virtue of Article 11(2) (i) of the NRM Constitution which lists them as members of the National Conference. To the best of my knowledge, these MPs have thus far not been dismissed from the NRM," the letter signed by Kihika partly reads.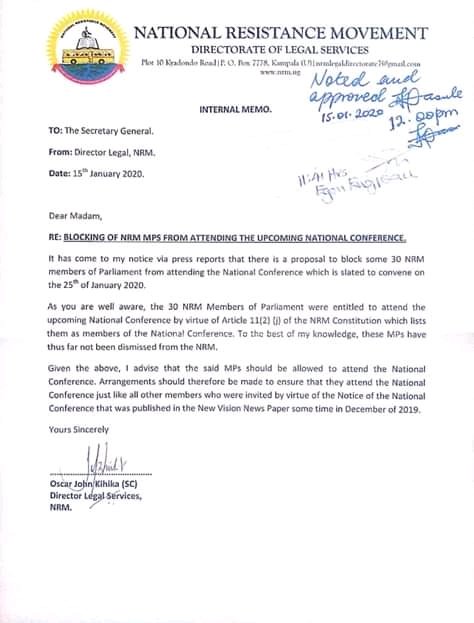 The MPs, who are 30 in total include Kampala Central MP Muham­mad Nsereko, Buyaga West MP Barn­abas Tin­kasi­imire, Theodore Ssekikubo representing Lwemiyaga and Wil­fred Ni­wagaba (Ndorwa East) among others.