Over the years, the Uganda Police has been put on the spot and condemned numerous times for using excessive force in all kinds of situations, some that don't even call for this kind of force.
Tear gas, batons, big sticks, rubber bullets and live bullets have been used by Police to disperse people they claim to be doing illegal activities like demonstrations, meetings, and strikes among others.
Just as anyone would think, it is mostly the members of the opposition that keep getting the full dose of Police's medicine provided with wrong prescription to cure a usually wrong disease.
There have been several incidences that make the public wonder whether the Police even have any kind of regard to the lives of the people brutalised. Last year alone saw Police go in full force with anyone that to them, was disturbing the peace of others. They carried out preventive arrests and all.
In one incident, Abraham Tumusiime, a Kyambogo University student had his hand chopped off by a teargas canister that was fired towards the striking students at the University.
Tumusiime grabbed the canister before it went off in an effort to throw it back to the Police but he ran out of time and luck, and it exploded in his arm before throwing it.
This was coupled with several arrests and other minor injuries.
Another Police Strike that broke out at Makerere University in October was even deadlier. Police with the help of the Military literally camped at Makerere University and, for the lack of a better word, wrecked havoc.
Students were arrested, residence halls raided, journalists who were covering the events brutalised.
It was too dangerous a scene at one of Africa's most prestigious Universities that President Museveni had to give a directive for the security forces to leave the institution and allow a calmer way of sorting things out.
During these incidences, Police claimed they were trying to safeguard the University property and the surrounding areas from the rowdy students and contain the strike from escalating to a worse situation.
Dr Kizza Besigye, the former Forum for Democratic Change (FDC) President who arguably holds the record for the most arrested person in the world has had several run-ins with the Police and other security organisations, and the most recent being when he was almost flushed of the top of his car in November last year as he made a procession through Kireka on his way to a planned FDC Delegates Conference in Namboole.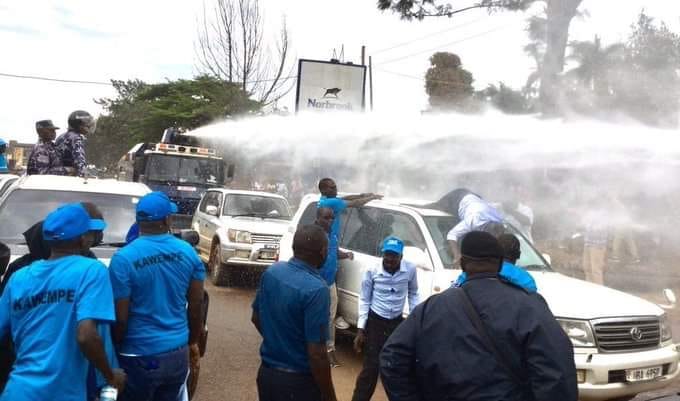 Police, again, claimed that Besigye and the group were disturbing the peace of people along Jinja road as they made their way to the venue of the conference.
Just recently on January 20, 2020, two officers were caught on camera assaulting a man in Soroti.
Police action
On several occasions when the Police have been put on spot for their actions, they have come out to give more excuses for their officers than condemnation. Nevertheless, some of these officers are apprehended individually, and top bosses condemn their actions.
On January 24, 2020, Director of Operations in Police Assistant Inspector General of Police (AIGP) Asuman Mugyenyi condemned the use of this kind of force to brutality.
"You saw the other day, our Police beating up people. I wonder where one gets that! You get a person, you kick, who has not even said 'you are stupid', who has not even abused you," Mugyenyi expressed his disdain on the actions of the Force's officers.
"So officers, I want to really request you that as we go on with our work, we should always remember that at the end of the day, we are accountable to the people, not only those who pay for our uniforms and salaries, but to everyone," Mugyenyi warned.
Mugyenyi's condemnation is just an addition to The Uganda Human Rights Commission (UHRC), Foreign Missions in Uganda and Civil Society Organisations that have always strongly condemned the excessive force used by Police in executing their duties.
As Police do their job, we expect them to conduct themselves in a manner that respects human rights and dignity.