The Minister for Gender and Culture Peace Mutuuzo is in the news for abolishing 'pulling' (labia elongation), a cultural practise mainly done amongst Baganda women and girls.
The Minister's warning has been received with mixed reaction with some applauding her decision while others seem absurd since they think the practise is very essential in many ways.
Such 'confusion' reminds us another cultural practise that caused debate a year ago. Women activists called upon government to ban kneeling arguing that kneeling is a sign of oppression towards women.
As we wait to get to the conclusion on the above practise, worldwide there are extremely bizarre and life-threatening practises still being implemented and natives always give 'good' reasons on why the practise them.
Cutting off Fingers
The Dani tribe in Indonesia has one of the most bizarre practices, aside from the inevitable emotional grief when a family member dies; women of the Dani tribe physically express that grief by cutting off a segment of one of their fingers.
Before being amputated, the fingers are tied with a string for thirty minutes to frozen them. Once amputated, the new fingertips are burned to create new scar tissue.
Endocannibalism
The bizarre cultural practices surrounding endocannibalism is implemented by the Yanomami tribe that lives in the villages within the Amazon rainforest, near the border of Venezuela and Brazil.
It involves consuming the fresh of a dead family member as they wrap the corpse in leaves and allowing insects to pick at it. 30 to 45 days later, the bones are collected, crushed, and mixed into a banana soup to be consumed by all.
According to tradition, the ritual helps ensure that the souls of the dead find their way to paradise.
Living with the dead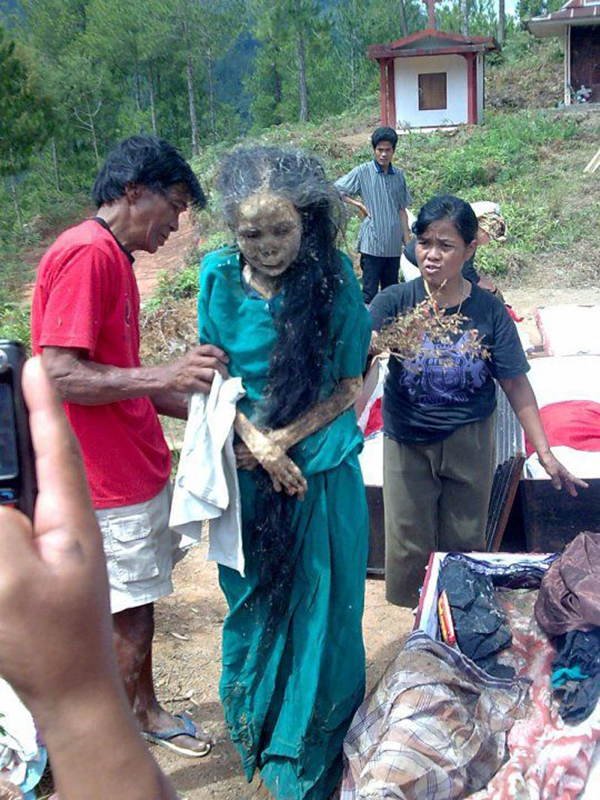 The Toraja people of Indonesia practice a truly singular ritual of exhuming the corpses of their fellow villagers. The corpse is dressed in special garments and paraded around the village.
The ritual is mainly carried out in order to clean the corpses, their garments, and coffins, and to ceremonially return the corpses to their home village.
That is, if someone died outside the village, the corpse will be taken to the spot of death, then walked back to the village, as an act of returning home.
Carrying your wife over burning coal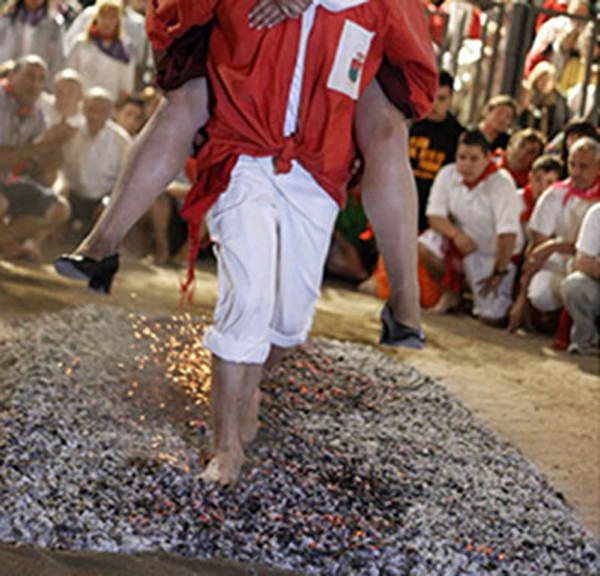 An interesting but painful traditional Chinese custom says that a husband should carry his bride over a pan of burning coals before crossing the entrance of their home as husband and wife.
According to tradition, the ritual ensures that the wife will have an easy and successful labour.
Burial Ritual in Brazil and Venezuela
When a person of the Tanomani tribe (live on the border of Brazil and Venezuela) dies, his or her body is burnt. The bone and ash powder is mixed into a plantain soup that the people attending will drink. They believe that this pleases the dead soul as it finds a resting place in their bodies.