Gloria Gift is a woman of many trades. She has done it and continues to do it all in the entertainment industry in TV, Film, music. Matooke Republic caught up with her for an interview.
Give us a brief background on who Gloria Gift is
Gloria Gift Nankunda is a professional, passionate, hardworking, multifaceted individual of many talents. She is a skilled voiceover artist, events host /MC, actress, independent producer and C.E.O of Gisha Productions Inc — a platform aiming to engage creatives in the production of award-winning artistic projects in television, film, theatre, PR and management of various events based in Toronto Canada. Above all this, she has dedicated her life to the artistry of singing, to become a very accomplished and successful Afro-Folk-Soul musician.
How do you describe the type of music that you create?
Afro-Folk-Soul. "Afro- Folk" because that is the traditional music I grew up singing and listening to with my grandmother in the village with my cousins and siblings. As well as a homage to my roots as a member of the Bweranyangi girls Secondary school choir under the guidance of the incredible Mr Nyinomujuni Pison all 6 years of my high school.
I enjoyed every experience of the Music Dance and Drama competitions that took place at the Uganda National Theatre every second term of the year. Makerere College and Jinja S.S.S were our biggest competition. Yes, Bweranyangi always came out on top, okay, sometimes 2nd place!! Hahaha. Folk music is the basis of who I am musically and keeps me grounded.
"Soul" part of my music involves my own experiences as an individual. I wrote all the English pieces on NANKUNDA. As an artist, my life is my art. It is about sharing parts of me with you to simply connect.
So, my music is for everyone to take a walk in my shoes as they allow me to be part of theirs as well. To make someone feel like they are not alone in this and that I can see, identify and meet them where they are, in that moment.
From the newsroom to the stage, what drew you to the music industry?
One may call it "evolving." When I came to Canada, I could not find a job in regards to broadcasting barely because I did not have Canadian experience.
That is when I looked into other career options and this time, I figured I should tackle my passion for the arts. I then enrolled in Toronto Film School (TFS) where I trained for acting for TV, film, theatre.
I was always drawn to the music industry after all I enjoyed singing and being on stage or being a part of anything creative but I had to first work on my confidence as a performer. That is what my training at TFS did for me.
I have always had a terrible struggle with stage fright. It does not necessarily go away in a blink of an eye but I have developed my mechanisms along the way.
I am also very proud to sing in my mother tongue Runyankore on the international scene. I love to share our Ugandan cultures and tradition at all my performances. It is very important that people learn about who we are as Ugandans, from Ugandans instead of just googling about us.
I wanted to make a difference in people's lives hence my music is about creating a safe space for other people to experiences the feelings they are most scared about, to bring about healing and inspire. Because that is what music (or any of my projects) does for me.
Who inspires you musically?
My faith. "I know I can do wall things through Christ who strengthen me" (Phil. 4:13).
My Music Teacher – Mr Nyinomujuni Pison – encouraged me to pursue MDD and nurtured my talents. He became like a surrogate father to me. I would not be here if it was not for his guidance.
My Grandmother (My father's mother) – was an ALTO singer in the Kitabi Parish Choir all her life.
Phil Collins/Genesis – I grew up listening to lots of his music and I fell in love with his vulnerability. He is not afraid to express himself and he does that beautifully.
IN THAT ORDER!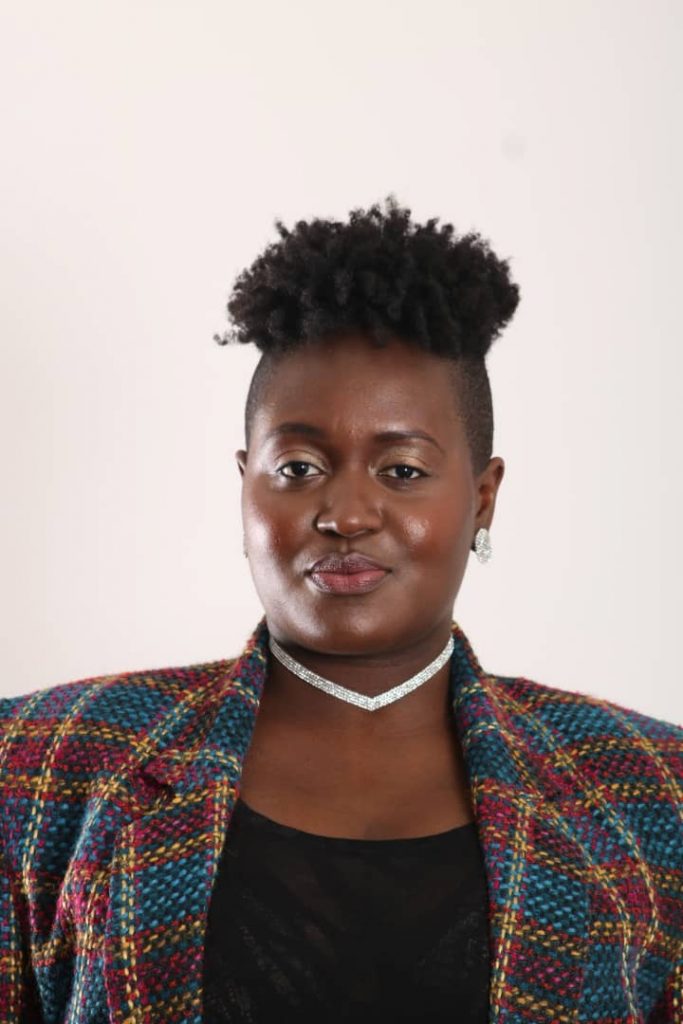 You recently released an 8-track Album Nankunda and every song in it has a story behind it. Why Nankunda?
"Nankunda" is my debut album. My very first piece of music on record ever in my life. I figured what better way to introduce myself into the music industry with my last name.
But more so grounding and celebrating my Ankole-Ugandan- African heritage and identity for people to know the person behind the music.
What is your favourite song off Nankunda and why?
[Laughs] That is a difficult question since I love all eight songs.
However I love "Ruhanga Akantoorana" because I know how grateful I am to God for his grace and favour upon my life. Also, because if my grandmother was alive, at least she would have enjoyed singing along to my version.
It reminds me to count my blessings hence stay humble.
Some of the songs are tales derived from the Ankole heritage. Why did you choose those particular tales? Why Zasetuka, Oyenkye nkusherekye and Ruhanga Akantoorana?
I grew up singing these folk pieces in the choir and MDD competitions. I take so much pride sharing and teaching about parts of my Ankole heritage with the folks I meet in communities here in Canada and abroad.
I wanted someone in my village (Kitabi – Bushenyi) to identify with it, to represent someone other than myself, to connect with my roots. Plus, they are beautiful melodies and deep soulful lyrics.
They say East or West, home is the best. When should we expect the Nankunda experience?
[Laughs] "The Nankunda Exeperience." My team and I are working on it. Watch the space!
What are your post-COVID-19 plans?
Well, I have my first ever duet "Njagala Gwe" with another Ugandan-Canadian artist Brian Flex and DJ Evoz out right now on all music streaming services. I look forward to performing it in front of an audience when all of this is over.
I have a couple of other duets/collaborations in studio right now and will be released then. I had to postpone my theatre production to 2021, but rehearsals will be underway. I have two TV web series I have created and produced under Gisha Productions Inc.; I will be promoting them. One is already out on YouTube called "Tatiana King exclusive access." The other is still in post-production.
It has been a busy lockdown for me. I Promise, I observed social distancing while doing all the above! Hahaha.
Which Ugandan artiste do you hope to collaborate with?
Cindy. I love her story, musicality, vocals and a great lyricist too. Plus, I look forward to introducing her to the Canadian market as well. I have no doubt she will thrive in it. I believe in her that much which inspires me in-return.