As a way of resuming business amidst the Coronavirus (COVID-19) lockdown, Crane Management Services has issued Standard Operating Procedures (SoPs) to all tenants occupying their buildings around Kampala. The Ruparelia Group Managing Director, under which CMS falls, Rajiv Ruparelia, revealed the new SoPs on Friday, during which he noted that although they have put in place measures to prevent the spread of COVID-19, government has to intervene, such that in case landlords waive some rent arrears, the Uganda Revenue Authority and utility providers should also give landlords a tax holiday and other waivers.
"We are one big family. A building is useless without tenants. However, tenants can't operate without a building. So, we are like a marriage and this marriage is very intimate. But unfortunately, government has not given any waivers to this industry."
URA has only deferred their payments. They have not said that this year we are going to give special considerations where we are going to write off taxes for companies. Look at NSSF, they have not given any conditions where companies can reduce the liabilities to pay NSSF," he said.
"There are no waivers given by government. How do we pass on a benefit we haven't received? If we don't get any benefit, we can't pass on anything to the tenant," Rajiv said.
"All they are saying is that if you're not going to pay in February or March pay in August. But that is not solving a problem as an economy or for landlords. Now even the Central Bank has given some ease to the commercial banks and but does not tell the banks that we have given some special liquidity in order to be able to subsidize the interest that you will face because landlords cannot pay the banks. You see, when the tenant pays the landlord, the landlord takes the money and pays the bank."
Discussions ongoing with tenants on case by case basis
"We are working in very unprecedented times. We are sitting with tenants and coming up with payment plans. Our tenants are welcome to come to our office and come with payment plans that suits their cashflow," Rajiv said.
"We have already started with the hardware buildings, the ones the President said should open and most of those people are very happy with the way we have dealt with them and we have got about 45 to 60 new tenants in our hardware shops because other landlords are not being considerate to the times and the circumstances that we are dealing in."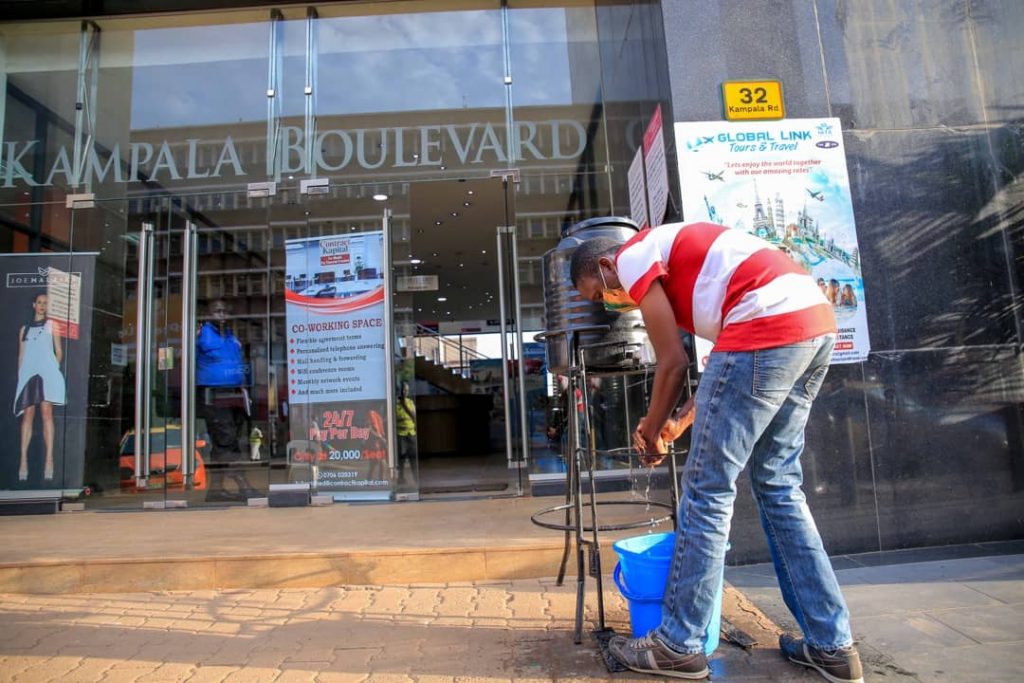 SOPs in Crane Management Services buildings
Rajiv said; "COVID-19 is not going to disappear soon. So, the question is how do we operate within its framework? The measures we have put in place are quite simple. We have already ordered for many hand wash stations that will be placed at every entrance of the building."
"These hand wash basins are not going to be operated with your hands but a foot pump. So you don't have contact with the opening and closing of the water."
"There will be automatic sprays that you put your hands under and the soap will be dispensed, so you will be able to ensure that very bacteria on your hands is killed and neutralized," he added.
He added that, "We will also ensure that we don't open all the entrances and exits for our buildings. We will control the entrance and exit points. We will set up check points where you wash your hands, where temperature checks are done and we will deploy more security personnel, to ensure that everybody is checked before entrance or exiting the building."
Further to that, they will ensure that everybody wears a face mask and everyone observes the social distancing and control the number of people in the arcade at any one time.
He also noted that they will work hand in hand with their tenants to ensure that this is all observed and followed religiously because it is in our interest as landlords and tenant to start opening up the buildings so that the survival of the tenants can start.
"They can start supporting their families again, because they have been closed for the last four months and they have no other source of income, which is going to create a bigger threat to us and to the economy at large."