Promoter Suudi Lukwago aka Suudiman has joined other Ugandans to eulogize fallen UPDF Brigadier Jackson Tushabe Bell. Bridagier Bell passed on Tuesday morning at Nakasero Hospital, after battling illness for close to a decade.
Although described as 'a fearless combatant' by Lt. Gen. Henry Tumukunde, and among the first one hundred young men to join the NRA liberation army in the early 1980s, the late Brig. Bell spent decades at the rank of Colonel.
And according to Suudiman, 'many people in Gaaba where he resided, actually thought Colonel Bell was his real name!'
Bell was only promoted to the rank on Brigadier recently!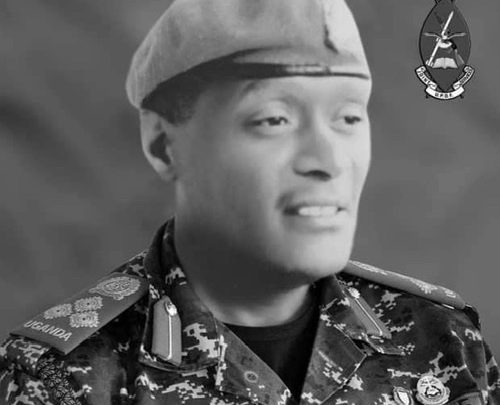 The departed General was majorly known as a good soldier and one with deep love for the game of soccer. He served under the Lawrence Mulindwa FUFA leadership, and also founded Victors FC.
However, in his eulogy, promoter Suudiman has described Brig. Bell as 'a parent and philanthropist, who sole handedly alleviated the livelihood of people in the Gaba community,"
Suudi becomes the second entertainment personality to eulogize the fallen General, after musician cum politician Bobi Wine, who described him as an soldier that was not shy to speak out when his bosses veered off course!'
Key to note in Suudi's eulogy, is that the late Bell helped the promoter fulfill his dream of visiting Uncle Sam's land (read USA), where he even acquired citizenship!
That the late channelled lots of efforts to helping the people in the Gaaba and Buziga communities live happily.
Below is Suudi's eulogy in full;
When you talk about Col. Bell Tushabe's good deeds in Gaba, many will shed tears.
He was a parent and a philanthropist who sole handedly alleviated the livelihood of people in the Gaba community.
We never saw him as a soldier.
He was a civilian in army uniform; a kind hearted philanthropist. From the 90's he was part of my life story.
He facilitated my travel to Boston, US in 1994. When I came back, he was first person I met and he gave me a warm reception.
I was a stubborn boy, who spoke like an American in the Bronx but he shaped my vision and instilled work ethic.
He told me to forget about the American dream and adjust to life in Uganda. Even with his rank and wealth, he was someone you easily confided in.
Even when you wronged, he wouldn't scold you in public like most high ranking officers. He loved providing solutions to problems of the common man.
The past three days have been very hard on me and many people he impacted in Gaba and Buziga.
I last saw him last year but even in his frail state he was keen on solving community issues. I went with a group of International students who reside in the area.
They had been stopped from playing football at his pitch. Many never knew him but they left his home with a very positive opinion of him. He allowed them and told them never to pay a coin.
He loved sports and his time as founder of Victors FC is well documented. Gaba will not be the same.
He will forever be in our hearts. It is sad that we've been denied the chance to bury our father, brother, mentor and problem solver who had a special place in his heart for the Gaba community.