Stella Nyanzi is a human rights activist and academician who subscribes to the Forum For Democratic Change party (FDC) and People Power Movement. The controversial former Makerere University researcher is famous for stripping naked to fight Makerere injustice and writing what has been termed as "obscene" poetic rants against the regime on social media. Her writings led to her serving a jail sentence.
She recently picked up FDC nomination forms as she will be contesting for the Kampala Woman MP Seat. Matooke Republic's Alex Taremwa and Rachael Kulanyi sat her down for an exclusive interview about her decision to join elective politics.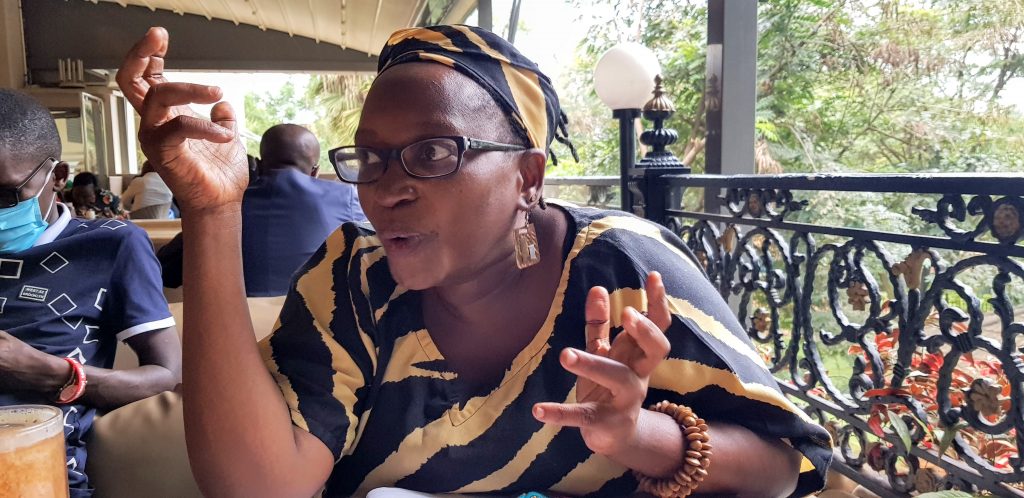 What's your biggest inspiration in joining politics?
Everything in Uganda calls for us to participate in the decision making about our lives because I think those making decisions for Uganda are working for a particular interest. Entering Parliament has been a necessity. I want to be there when we are cleaning up Parliament. For me, one of the most outrageous moments was during Togikwatako when Kampala Central MP Hon. Mohammad Nsereko was seen asking where his counterpart Kampala District Woman MP. Hon. Nabilah Sempala was. Nabilah was missing in action when we needed her the most. In 2016 I mobilized my sisters to vote for Nabilah.
But the moment that broke the camel's back was when I was in Prison and realised the opposition would be more meaning full, more powerful, more effective had we had more numbers.
Why do you want to dislodge Hon. Nabila Sempala yet she's your party member?
When I was in prison, my daughter came and told me "Nabila has written about you in the press." My daughter said to me, "Maama, why don't you run against this woman?" I asked her why I should. She said, "what does she have that you don't have? What is it that makes Nabila greater than you?"
My daughter was speaking as my daughter. She's a young feminist. She's now 15, but she opened my eyes. This from "Prison to Parliament" slogan is her thing. She's a poetess and she wrote something little for me. It read like "Wouldn't it be great for you to come from prison to Parliament?
If anything, the prison experience makes you a better contender because you're now in touch with the reality of the everyday Ugandans who are oppressed by the rules and laws and policies and bills enacted in Parliament.
But with the NRM still majority in Parliament, what value does a singular addition of Nyanzi bring to the deliberations in the House?
Why do we allow ourselves to think as losers even before we bring the context? I think for me the illusion of the majority opposition is a necessary one. I have to work under the assumption, perhaps it's a false assumption that I can mobilise other women, other men in the opposition to come and flood parliament so that instead of having a 1/10 we have 9/10. I think for me I need that illusion otherwise if I assume it's not possible, I am beaten before I begin.
You wear so many hats that the one of an academic, in the Ugandan experience at least, does not bear great politicians. Why is that?
The former Prime Minister, Apollo Nsibambi (R.I.P) was a Professor. I don't think any Ugandan worth their salt can water down his contribution to Uganda's politics. I think when one decides to get actively involved, they have seen potential to influence political decisions. Sadly, most of them are men, very few women academics are participating. So the idea that academics cannot participate in Parliament, I think is just propaganda that the regime has sold that many academics are believing. I think many of us should come and engage. I was among the elite for long until the effects of a dictator affected me personally with the death of my parents.
Everything that happened to me at Makerere was an eye opener that unless academics, intellectual thinkers and scholars get involved in the system, we are all doomed.
I will go and school the Members of Parliament. How can the Finance Minister read a wrong budget for example? Matia read a budget that wasn't approved and then they say Nyanzi is the insane one. What is more insane? If I was in Parliament I would knock my shoe and say Minister, that isn't the budget we passed. What were the members in Parliament doing? Did they even read the budget?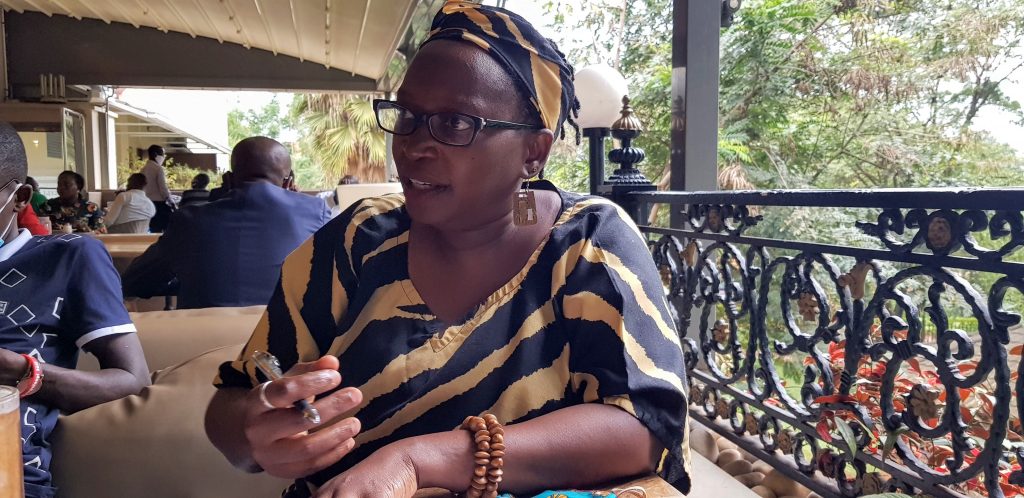 But Dr. Stella; you're a rebel, a non-conformist. How will you handle Parliament – a place of rules? Rules of Procedure, dress code, talking etiquette?
Does it make me disrespectful and immoral? I don't think. But first of all unlike Bobi Wine [Hon. Robert Kyagulayi] who cut his, I am growing my dreadlocks because I feel we need the dreadlocks people represented in Parliament. I think it's a very sad picture to see Members of Parliament all dressed in suits and high heels and nice skirts because they are many people like me who are indeed non-conformists.
Dreadlocks are a symbol of resistance and rebellion and anybody who doesn't know had better know. So, when you see me swinging my dreadlocks, you stand warned. There are very many rules, policies, laws, norms that when analysed, have no relevance apart from control. If it's not harmful, why refuse it? The point is if I sit like a guy and share sexual jokes like a guy, does it take away my womanhood? Does it mean I don't represent people well? I don't think so.
I think it's about control and subjugation and trying to make us manageable. I am uncontrollable because we need to resist. A lot of the control is about domesticating us especially if we are women. Men want a woman in order, in place. And it is very disempowering. We need to resist. I am not nice around order. Diplomacy has been conquered. The woman for whom I protest understands when I undress because there will be justice. The day I stripped at Makerere, people who had ignored me for five years all stopped and listened. Not only Makerere but the whole of Africa knows about that protest.
I am not looking for likes. I am looking for effectiveness. The only thing that made everybody drop their tools and drive to the gates of Makerere was my nudity. When the SFC guys came I would have wanted one woman to kick those boys in Parliament, there was no body.
I was actually going to ask you about that, if you were in Parliament and the SFC guys came what would you do?
Ayayayaya, That's crossing the line, the Executive brings it's paras into Parliament 's vagina and rapes me. Because it is rape, it's not a moment to be nice or polite or whatever the word is. I would break every rule in the book to show them that they crossed a line because they are rules of engagement, Executive you stay where executive is, Don't fxxk up in Parliament.
Let them dare when I am there, it's an invitation. Either I die or they will learn never to do it again. And so I am not going to Parliament to be polite. I am going to Parliament to be what I am. I clean up messes if I can't clean them up, I shout about them until someone does the cleaning. I am nice around niceness and order.
Are you sourgraping? Are you running because the regime has stripped you of work, imprisoned you, discredited you? Is this some sort of revenge?
I am very disappointed! As a child, my family was sent to exile by dictator Amin. My parents were both NRM cadres. As a refugee, I know the hope of returning home. And we came back to what? Is this what we came back to? When we were refugees, my father used to contribute monthly to Museveni's freedom liberation struggle? I was an NRM cadre myself. When my parents told me not to go to Kyankwanzi in 1990, I escaped from home at night and went anyway. I was a Museveni supporter because I believed in him.
We need freedom fighters to fight for us from those we thought were freedom fighters. And I want to be among those who contribute towards the struggle for freedom.
If you met Museveni now – your 1990 darling – what would you tell him?
I would say hello and walk away. As an individual, I have no problem against him. My beef with Museveni isn't personal. I would probably ask for a selfie just to show my children what a dictator looks like.
But Museveni the president, if he promised not to have me arrested, tortured or killed, Ayayayayaya I would school him. I would educate him on the rule of law, on justice, on human rights, on freedom of expression, on corruption. But this dictator of yours, if I met him in the corridors of Parliament, I probably ask for a selfie and walk.
You have had a love hate relationship with the FDC supporters because of your recent statements against Dr. Kiiza Besigye and Bobi Wine.
Yes, I proposed that Bobi Wine should be President and Dr. Besigye, the Prime Minister.
Has that position changed?
In the UK where I studied for very many years, the person with most power is the Prime Minister. I choose not to interpret the threats from FDC supporters as hate because when I went to Najjanankumbi to get nomination forms and the party membership card, I got it. There are people who think that I attack Yoweri Museveni because he is in the regime and I am in the opposition, and that if an opposition MP beat up his wife, I will stay silent because he is opposition. I deal with and try to repress oppression outside my party and in my party. My party FDC isn't perfect. The idea that a party member cannot express an opinion that is divergent from the opinion of others is totally unacceptable.
The idea that a 46-year-old woman will be threatened by goons in her own party is unacceptable. They threatened me with rape, with beatings, with murder and expelling me from the party. Now, it is not NRM doing this, it is my party. They even had the audacity to tell me to apologise. All my life I have been fighting for the right to express myself freely without fear of retribution. I think the issue of oppression sadly also is in the opposition.
The idea of being scared of women aspirants who are powerful cause I am a powerful contender is not just a regime issue, it is the society. So what is happening in FDC is not a new thing, it happened at Makerere. That was not politics but it was politics. It happens in my house. It happens when my father dies and I have to fight for property. I am the first born child of a man who only got four girls. And it doesn't matter if it is my family, my children, or my country. Oppression is oppression. Bullies are bullies. But I think what happened with FDC on one hand is about people loving me and feeling disappointed but many of those people are loving an illusion, they don't know that I will speak truth whether it is to Besigye or Museveni or Bobi Wine. If it offends you, then I am sorry you're offended but I am not sorry I said it.
Why did you choose to renew your FDC membership and run on their ticket when you are in cohorts with the People Power Movement?
The processes of political parties are very easy. Get nominated, go through primaries, come as a flag bearer or not, contest in nationals, win and go to Parliament, straight forward. FDC offers me that – the clarity of process. People Power is a new movement which I admire and associate with very closely. In fact, I am an active member of People Power because a lot of their ideals are my ideals.
Now the question that we have is who should become president. That decision is made on the ballot paper. It is secret ballot for a reason and that answer for me goes inside the ballot box. Those that don't understand Uganda's politics are the ones that tell me Nyanzi you can't be of FDC and at the same time love People Power. People Power is not a political party, if it was apolitical party I would be having a card but they have no card to give me. FDC has a card. If I can get a card from FDC and I am a member there, there's no clash between my membership in FDC and my allegiance to People Power and I claim both for myself. I refuse to reject or drop any because in my mind there's no contrition between Dr. Besigye and Bobi Wine. I love both of them and I will have to sort myself out in the moment of election but affiliating with People Power and getting their support and vote and affiliating with FDC and getting their support is a beautiful strategic decision I am going to make.
But then in case FDC fronts another candidate for your position, will you run for the same position under People Power?
Well, because People Power is not a party, what stops me from going there? If the Alliance for National Transformation (ANT) is looking for flag bearers and their processes are still open, I will run to ANT and contest against the FDC flag bearer. This is a game of politics.
I am waiting to see what happens in the primaries because there is the incumbent who is from FDC, she got forms. There's another woman called Faridah Nakazibwe, she's a journalist who was courted because I wrote an opinion about her and I am not repentant about and there's another woman called Bagaya. I am going to participate in the primaries, beat whatever contender and then they will all have to vote for me in the general elections. My strategy is to I win this one. I am going to FDC get on the flag the same way I started my journey to get my PhD and got it. The same way I set out on the journey to be reinstated in Makerere and court ordered them to do so.
Ugandan politics is about money, isn't it? What are your sources of funding?
Right now it's family. When I was employed, it was easy because we make money. I don't come from a poor family. When I walk around in bitengi (African print dresses), a lot of people just assume that I am broke, I am not. I wouldn't have studied in the UK or Gayaza High school for that matter if my family wasn't privileged and I am not saying that to boast. It's just the fact that's out there, that's why when my children didn't have a mother and are not in touch with their father, they could still go to Kampala Parents which is expensive.
So, I am looking at my family, I am looking at my relatives, I am looking at friends. I have so many friends whose rights I have fought for, be it women, the queers, sex workers or refugees or opposition activists. I conducted the Pads for Girls Uganda campaign and I was receiving Shs1000, 3000 from everyday Ugandans who understood the cause; boda-boda men, matooke sellers and we were able to make millions through crowdfunding.
Every time I am arrested by the Police, they ask me; who is funding your protest as if my hunger is not enough to make me get a saucepan from the kitchen, go to the streets and bang the empty saucepans singing Twagala Mmele (we want food). I don't need money for that. Most of my protests are very cheap.
I have entered the race last. I think many people had the advantage of time when I was in jail but I am not scared. I am a good mobiliser of resources. I will ask those boda-boda men to give me money to go and represent them. I will go to those arcade owners, I will go to those wealthy Hajjis, I am going after the Sudhirs. I will go to NRM people who are willing to fund a woman such as I. Because the people who believe in my cause also know that I am poor not because of poverty but because of oppression, imprisonment, termination from my job. I am working on my financial strategy. I have got eight months but I might only need just two to raise money. The oppression has taught us to innovatively survive without money and to do things that the wealthy do without financial aid.
Do you see it as an advantage that there's a possibility of a scientific election considering most of Kampala voters are online and you have quite a following?
No. Actually most of my constituency don't have smart phones, most of them are women in markets who don't have time to watch TV and boda-boda men who can't deliver things through SafeBoda. Most of the people whose vote I am counting on are the marginalised Ugandans. I need to meet them. That's why when I took my forms back to FDC to be nominated for the primaries, I went with a gang. We had a motorcade. There were 32 of us. That's totally non-scientific. The scientific one is five.
I began my campaign totally non-scientific. The men who came with me are unemployed Kampala dwellers. Many of them don't even know they were in the news so scientific elections are good in that I have an advantage I have been playing on the internet for a long time but they are not going to work for me because I don't the money for airtime. I will not pay media houses even if I have a budget that caters for them. I will rather buy aprons and masks. We shall stand as oppressed Ugandans to show our resistance to the scientific election. I am going to take advantage of it although I don't think it works.
Do you see any merit to having a scientific election?
Not in Uganda. We are not even half digitized. When I think about my grandmother in Mitemela, Masaka where the road is not tarmacked, there's no Internet, no mobile network and is lucky to when she has batteries for her radio, what is her place in a scientific election? If Museveni's dictatorship had helped to digitalise and educate people so that they can read, it would be easier for us to say it's possible. You say Stella Nyanzi who can mobilize has an advantage. Faridah Nakazibwe is a media personality, how do I run against her? But Iam going to run against her and win because I am going to the streets where she isn't. Whether scientific or virtual we are going to stand.
How is your sex life?
I have sex with a man who is not my husband. My Husband lives in the UK, I haven't seen him for the last 13 years. I am not seeing a lesbian, the lesbian stories are hoaxes and I think the FDC and People Power thing blew my cover because for a long time my critics said I was seeing a lesbian. Now they are complaining that she's loving this young hot Ugandan man, some are complaining that she hasn't had sex for such a long time. I am a single mother who has a partner that I love dearly and I am lucky he loves my children and they love him.
Who is this man though? Spill the beans.
Do your research. You will see him. Don't be lazy.