President Yoweri Museveni has summoned all the political leaders in Sembabule district for a meeting set to be held at State House Entebbe.
According to a letter dated September, 7,2020 letter by the Sembabule RDC Nickson Kabuye, the district leaders will meet Museveni on Thursday, September,10 .
"I have been directed to inform and invite you for a meeting with the President of Uganda. The meeting shall take place on Thursday 10, September 2020 at State House Entebbe. You are also informed to report to Mulago National Specialized Hospital on September 8, 2020 for Covid-19 tests as a must," the letter reads in part.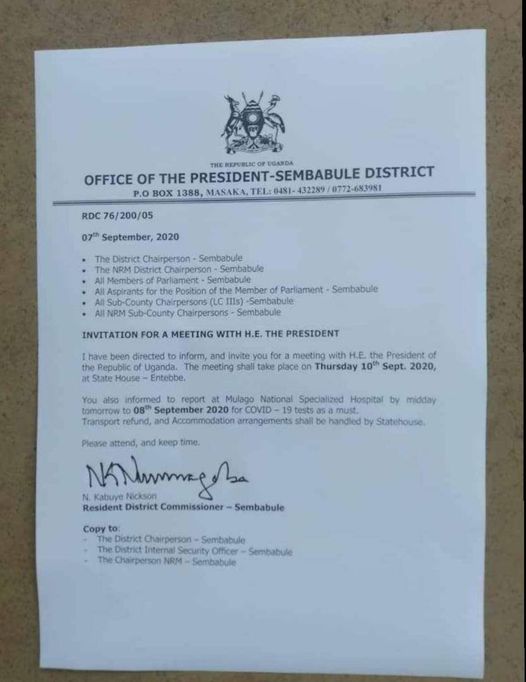 According to the letter, the district chairperson, NRM district chairperson, all Members of Parliament in the district, all aspirants for the position of Member of Parliament, sub-county chairpersons and all NRM sub-county chairpersons are supposed to attend the meeting.
The meeting is expected to discuss the NRM primaries in Sembabule that were marred with violence. The race in Mawogola North pits Museveni's younger brother Godfrey Aine Kaguta also known as Sodo against Shartis Musherure, a daughter to Foreign Affairs minister Sam Kahamba Kutesa and another candidate Salim Kisekka.
The NRM electoral commission postponed elections for both Mawogola North and Mawogola West constituencies in Sembabule District to a later date.