Pollution is one of the leading preventable causes of death around the world. The UN's World Health Organization (WHO) says it kills nearly seven million people every year.
Worldwide, humans are producing over 300 million tons of plastic each year, 50% of which is for single-use purposes. More than 8 million tons are dumped into the oceans yearly becoming an environmental threat to our ecosystem and biodiversity.
Kampala City, Uganda, generates 750 tons of waste a day of which half is collected and sent to the dumpsites. The other half, mainly plastics and polythene, is irresponsibly disposed of often finding its way to highways, slums, and uptown suburbs alike through the poor drainage channels, from where it snakes through to our water bodies creating massive pollutions.
Health experts warn that as urban air quality declines, the risk of acute respiratory diseases such as asthma, strokes, heart diseases and cancer increases for the inhabitants.
What are the causes of pollution in Uganda?
Pollution in Uganda is driven by rapid urbanization, improper waste disposal and population growth in urban areas.Uganda's dirty air is characterized by smoke from car exhaust, industry, residential trash burning, road dust, and soot from indoor biomass-fuelledcookstoves.
What are the solutions for air pollution in Uganda?
EcoAction Uganda,together with Kampala City Council Authority (KCCA), AEIF Alumni 2019 and five primary schools in Kampala; Namirembe Infants School; Bat Valley Primary School; Kawempe Muslim School; StPonsianoKyamula School and Luzira Church of Uganda School) have received funding from the Ugandan US Embassy to implement the "Clean Air Project" in 2020.
How they came up with the 'Clean Air Project'
In 2018, the US embassay sponsered 11 Ugandans under the Alumni Engagement Innovation Fund (AEIF) on an exchange program to the US to learn what the country was doing in terms of air quality monitoring.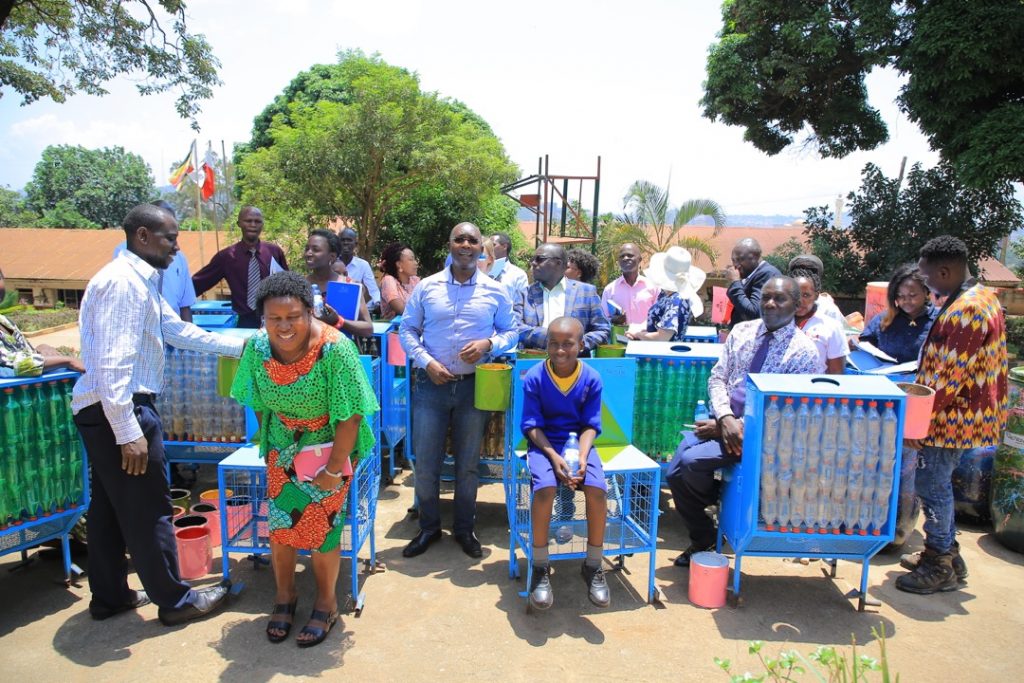 "When we came back we worked on a project to buy low cost motion sensors that could measure the level of pollution in the City which is taken on by Kampala Capital City Authority (KCCA) and these have been put in different strategic places in Kampala and they are monitoring air quality in the city," says Emily Namanya, the sanitation and environment projects coordinator at KCCA before revealing that up until 2016, Uganda had only one air quality monitor owned by the US Embassy Kampala.
Emily Namanya explains that the alumni were further tasked to come up with a place where they would implement a programme tailored to preserving the environment and they decided to take on schools because as, KCCA, they work hand in hand with schools and know their challenges.
"We were able to write a small proposal that won us a little gran to help us carry out different activities in five schools. We chose one school per division to make up for the five divisions in Kampala. The main goal is to make sure that we keep our air clean, making sure that no waste goes to landfilling. We want to make sure that whatever you do that stops you from landfilling will contribute to clean air," she explains.
What is the solution plan
Reagan Kandole, the founder of Eco Action Uganda says that together with KCCA and US embassy their partners, they made conclusive research on air pollution patterns and have managed to come up with a solution plan.
In their survey, Kandole says the problem of proper waste management was indentified and as a team, they decided to design a proper waste bin that can handle bio-degradable waste, plastics and paper.
"At the end of the day, we came up with a design and EcoArt took it up to design and execute a prototype," Reagan Kandole, the founder of Eco Action says.
The initiative birthed another job opportunity for the vulnerable people around the city suburbs as Eco Action Uganda reached out to communities to help them engage in collecting plastic materials.
According to Kandole, about 30 people with majority being women took up the task which is now earning them a living. A new advancement of the prototype dustbin was then made and taken to the partner schools.
"We produced about 100 dustbins that we later supplied in schools and to every five schools each getting 20. The concept was using recycled materials to appear in the bins," Reagan Kandole, the founder of Eco Action explains.
He further states that each school has an eco-club with about 30 to 50 members who are taught on how to implement the clean air and proper waste management solutions.
"Our main interest is engaging the children in recycling workshops, to really have the three R's elements of recycle, reuse, reduce but also find innovative ways of dealing with waste rather than burning it," he says.
Kandole says the clubs are also tasked to come up with songs and skits that sensitize the public about living in a safe environment.
Similarly Namanya states that each school is going to have a sort of demonstration garden where each waste that is going to be collected is going to be turned into organic manure that will be used in the garden.
"Part of the training is going to be on urban agriculture, how they can turn waste into a fertiliser,"says Emily Namanya, the sanitation and environment projects coordinator at KCCA.
She adds, "We want to train these youngsters and their teachers that what you use can actually be turned into other reusable stuff that have a much bigger function and value. We hope to upscale this, we started with five schools and we want to see how we can take this initiative to all other public schools in Kampala."