With many people furious at religious leaders for being quiet about the police brutality and injustices exhibited ahead of the 2021 general elections, Father Kiibi Kateregga has defended the clergy and declared his support for the National Unity Platform (NUP) presidential Candidate Hon. Robert Kyagulanyi Ssentamu.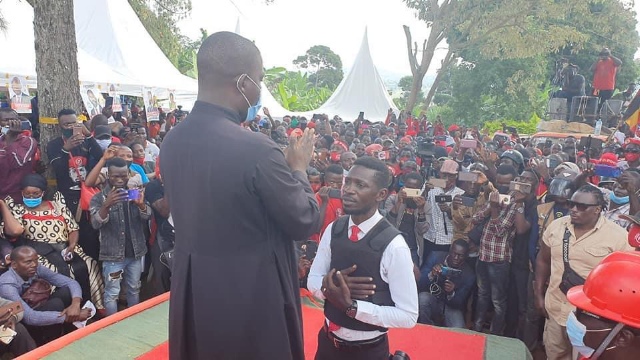 "You keep complaining that religious leaders are quiet but what should they do, media doesn't give them the coverage. Bishops have played their part but our leaders have decided to ignore them," said Father Kiibi

Father Kiibi cautioned the security forces to respect the lives of Ugandans and protect them.

"When I see what's going on in our country, people dying and atrocities being committed. I wonder if the people committing them know that God exists. Do they know that God will someday question their actions? Do they think about the tears people are shedding? Please use the guns to protect us," said Father Kiibi.

Kiibi also urged all Ugandans to kneel down and pray for the country before reminding them to turn up in big numbers and vote. He also wished Bobi Wine the best and told him that they are rallying behind him.

"Any leader with no successor is a generational failure," said Father Kibi.