Former Presidential Candidate Robert Kyagulanyi Ssentamu alias Bobi Wine has written a protest letter to Next Media Television NBS accusing the broadcast of biased election day reporting.

The letter dated January 27, 2021 states that the broadcast made by NBS TV on and in the aftermath of the January 14th Presidential elections was biased.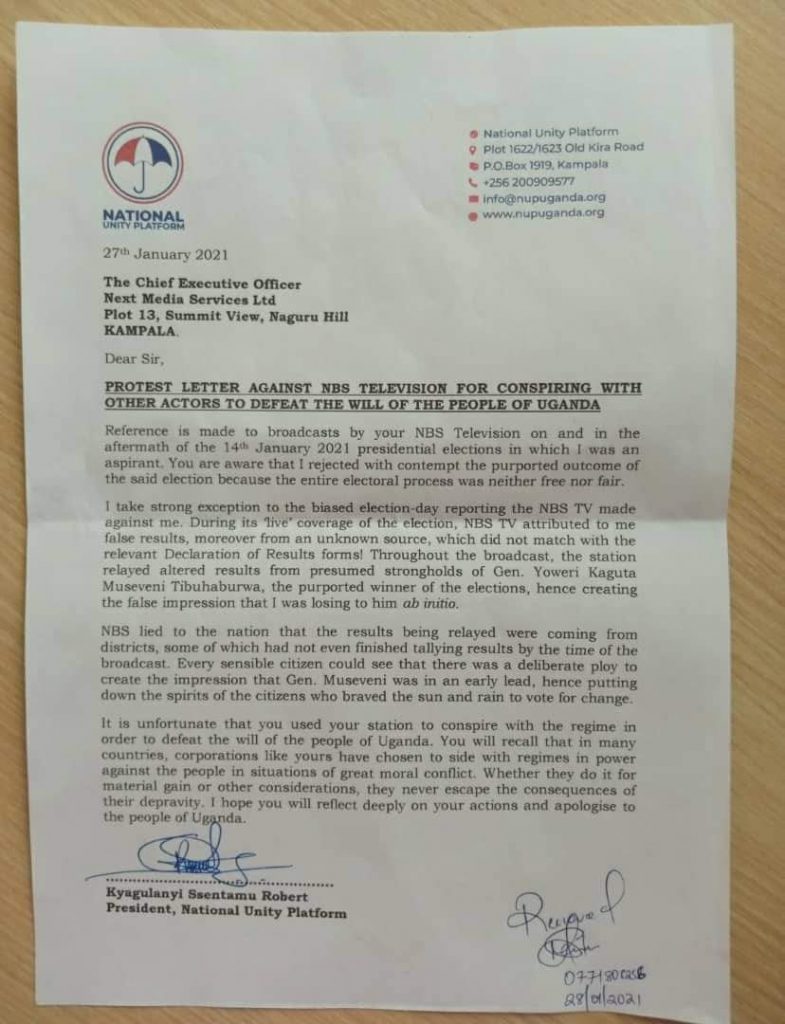 "You were aware that I rejected with contempt the purported outcome of the said election because the entire electoral process was neither free or fair," stated that letter .

Kyagulanyi also stated that he takes strong exception on the biased election day reporting that the TV made against him.

"NBS claimed to have established its own Tally Center (which other media houses were not allowed to do), and by 11:00pm, they were saying that Museveni had 63% from several districts. Most citizens wondered where these results were coming from, " stated Kyagulanyi.

He also stated that the intention of the broadcast was to create the impression that Museveni was leading so as to dampen the spirits of the citizens who had roundly rejected the dictatorship.

" During it's live coverage of the election NBS TV attributed to me fake results moreover from unknown source which didn't match with the relevant declaration forms," said Kyagulanyi.

He further said that NBS lied to the nation that the results being relayed were coming from districts yet some of the districts hadn't finished tallying the votes.

" It is unfortunate that you used your station to conspire with the regime in order to defeat the will of the people of Uganda," he added.

Kyagulanyi also asked the broadcast to reflect on it's actions and asked it to apologize to the people of Uganda.