Bobi Wine real name Robert Kyagulanyi, the former presidential candidate sponsored by the National Unity Platform (NUP) has today paraded box files containing over 20,000 Declaration Forms from the previous election at the NUP headquarters in Kamwokya.
Kyagulanyi insists that he won the 2021 presidential election with 54.19% and he has overwhelming evidence that his victory was stolen.
The presidential hopeful says that the institution (Supreme Court) that was supposed to redeem his victory decided to operate in favour of Museveni by rejecting over 200 affidavits hence their decision to withdraw the election petition.
"We went to court not that we trusted the Museveni Judges BUT because we trusted the LAWS," said Bobi Wine.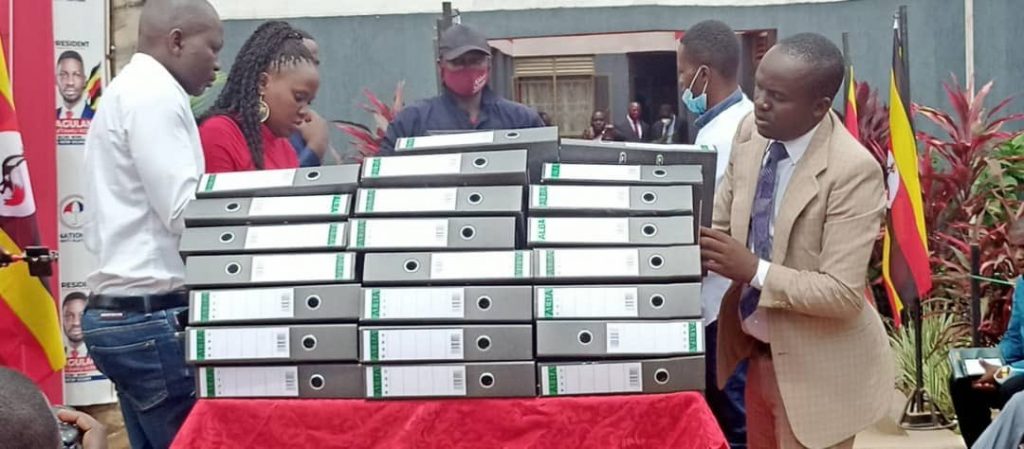 On his next move, Bobi Wine has tabled the 'overwhelming' evidence before the "public court". He says the people of Uganda who feel their win was robbed are now free to decide on what to do next and reclaim the win using all means that are backed up by law.
"We are nonviolent citizens. We are going to demand for our win through all possible means within our constitution. I therefore call upon Ugandans to hold peaceful demonstrations by matching to their respective district headquarters and demand for answers," he says.
Earlier today, Police said they were aware of the planned demonstration by elements of the opposition especially from NUP party as various posters have been pinned across major towns in the country.
Police went ahead to deploy heavily today across the city especially Kampala downtown and Kamwokya.
"We have deployed strategically to counter these illegal acts and we are continuing with vigilance. We want to warn the organisers of these unlawful demonstrations to desist from participating in any unlawful activities," said police in a statement.