As the coronavirus vaccines are rolled out across the globe, Uganda will today officially launch the vaccination exercise at Mulago Specialized Women's and Neonatal Hospital. However, the country wide COVID-19 Vaccination exercise will begin tomorrow on Thursday March 11 2021.
Last week, the ministry of health received 864,000 doses from the COVAX facility while 100,000 doses arrived on March 7 2021 from the Government of India.
Health Minister Dr Jane Ruth Aceng says that all eligible persons will be required to sign a consent form before vaccination is given.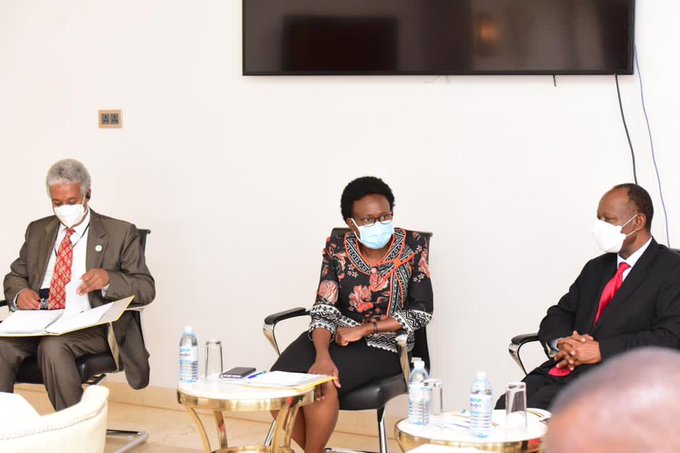 "Beneficiaries will be identified using their National Identity cards or any other identification documents like Driving permits, Refugee Identity Card, Work permits and Passports. Other means will be use of Local Council leaders (LC1) or VHTs," says Dr Aceng.
The vaccination of health workers will take place between March 10 -15 2021 followed by teachers/ Lecturers from March 16 to 19, 2021. A vaccination card will be issued after information has been captured and the client informed when to return for his/her second dose.
Aceng reveals that even after vaccination, an individual can still contract COVID-19 but his/her symptoms cannot be severe. She says individuals must follow SOPs even after being vaccinated.
She says the AstraZeneca vaccine is protective against severe forms of disease and deaths. The documented side effects of the vaccine like any other vaccines include: pain at injection site, irritation, fever and muscle ache. These side effects are mild, not experienced by everybody, and they resolve by themselves.
The vaccines are administered on the left upper arm. The complete dosage requires two doses of 0.5mls of the vaccine given two months apart (8 weeks).
"It is safe to provide the vaccine to all age groups above 18 years, pregnant and lactating mothers. Vaccination is recommended regardless of one's previous history of infection with the corona virus. Testing before vaccination is therefore not required," she says.