It was a somber mood today at Holy Saints cathedral as the brides groom Dr. Patrick Mbusa Kabagambe who was meant to wed his bride Christabella Kobusingye at around 1pm failed to make it to church.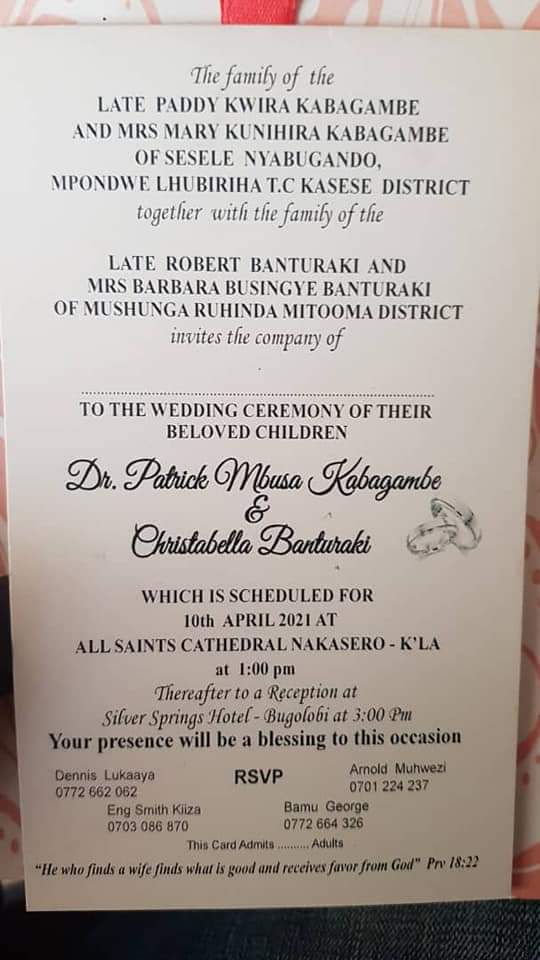 In a complaint reference SD REF 22/10/04/2021 lodged at Kasangati police station by the bride, Kobusingye stated that all Mwasa's phone numbers are off
"He went missing in a motor vehicle UBH 905X on our wedding day.What is even more worrying is that all known phone numbers 0772844871, 0702683911, 0726003296, for Dr. Mwasa are off, read the statement by Ms Kobusingye.
"The family is stuck with the wedding reception. Patriots, let's assist trace the suspect /victim," Kobusingye told police.
Deputy police spokesperson for Kampala metropolitan, Luke Oweyesigire confirmed the developments in a messege.
"They have just appeared at Police today and police is going to investigate the matter," Oweyesigire said.
The two were set to get married today at Holy saints cathedral and later host their guests at Silver Springs Hotel.