Uganda Revenue Authority (URA) finalised the re-inspection exercise of Bobi Wine's armored vehicle Toyota Land Cruiser UBJ 667F. In a letter addressed to Bobi Wine's lawyers Wameri & co Advocates, URA has told Bobi Wine to pay Shs337,698,776.25 as the car was undervalued in the past.
According to URA, the car was declared at their customs as an ordinary car and was charged Shs88million and was undervalued at Shs157,925,502.
However, after re-inspection they have found out that its indeed an armored car hence Bobi Wine has to pay over Shs300m to rescue the car.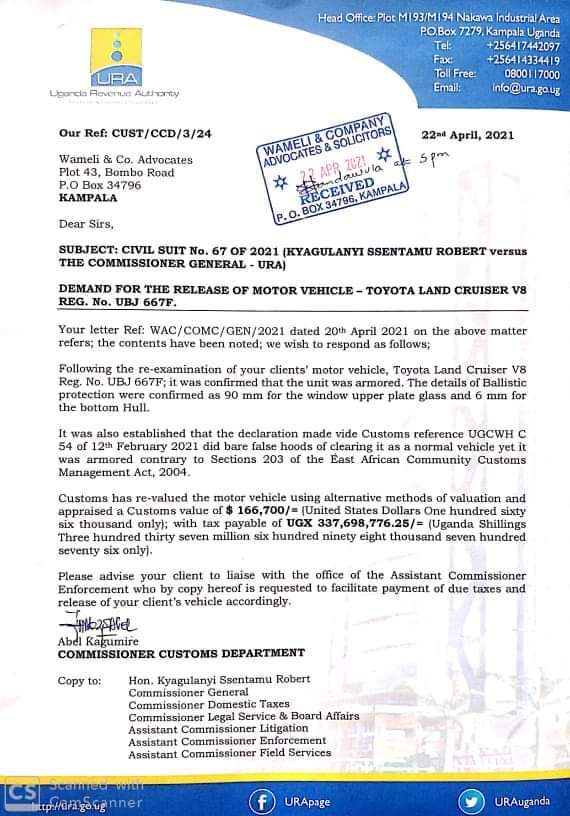 Bobi Wine has protested the call for him to pay extra fees claiming that the car was legally cleared by all relevant agencies.
"The vehicle was taken to the Directorate of Interpol in Kololo and they cleared it. It was then taken to the forensics department of police in Naguru, and they too cleared it. Then we took it to URA and they did their own independent verification and levied the relevant tax which we paid," says Bobi Wine.
Bobi reveals, "The reason we did all this very easily was because my name hadn't come into the picture. For several months, they did not raise any issue. Indeed, if the car belonged to any other citizen, there wouldn't be any issue."
"It was only when we transferred the car into my name that they began looking for fault and did not find any. At first they claimed that armoured vehicles require clearance by the Ministry of Defence. But there was no law to back their outrageous claim. That is how they said it was undervalued," he adds.
Bobi Wine unveiled his car earlier this year a few weeks after the January polls and it immediately became the talk of town.