Former Archbishop Church of Uganda, Stanley Ntagali's adultery woes are far from over as Rev Christopher Tugumehabwe through his lawyers Bikangiso & CO. Adovocates have petitioned him demanding for Shs530m in compensation after confessing having an affair with Tugumehabwe's wife Judith Tukamuhabwa.
Last week on Thursday, Ntagali confessed publically that he committed adultery with Judith. Ntagali made a public apology and sought for forgiveness.
"I fell into sin of adultery and I confessed to the Lord to forgive me and I want the church to forgive me. My brother bishops, all our partners, brothers and sisters in the vineyard of the lord, the entire church of Uganda and all our partners all over the world and the family Rev Christopher his wife Judith, the two families please forgive me. And I want to remain closer to Jesus," Ntagali said.
Through his lawyers, Tugumehabwa says that he learnt from various media platforms of the fact that, Ntagali admitted to having committed an offence of adultery with his wife.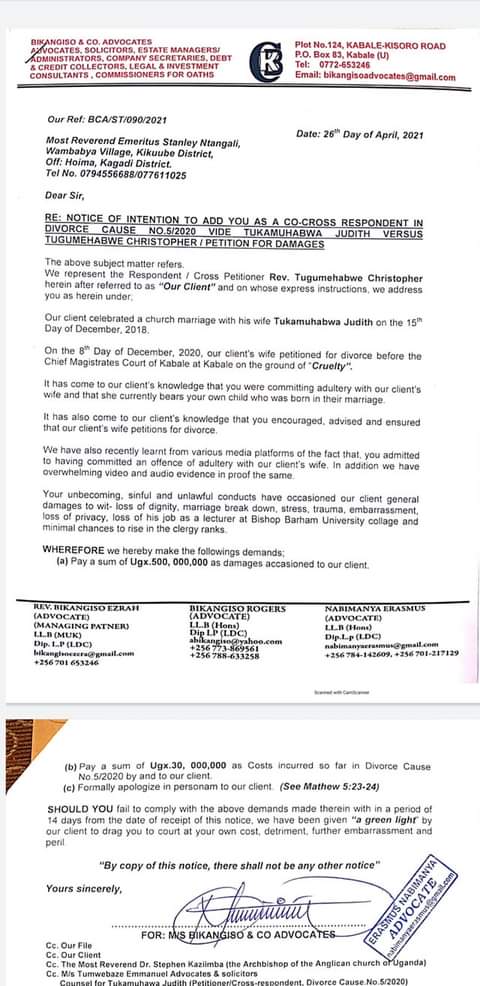 In his intention to sue suit, Tugumehabwa accuses Ntagali of encouraging Tukamuhabwa to ask for divorce before Kabale Magistrate's Court on claims of cruelty. He claims that this was after Ntagali slept and impregnated his wife.
They have now given the former Archbishop 14 days within which to pay Tugumehabwe Shs500m as damages and Shs30m as their legal fees or else prepare to face them in court.
They also want the Archbishop to apologize to the Reverend.
"Your unbecoming, sinful and unlawful conducts have occasioned our client general damages to wit- loss of dignity, marriage break down, stress, trauma, embarrassment, loss of privacy… and minimal chances to rise in the clergy ranks," reads suit in part.
It adds, "Should you fail to comply with the above demands made therein with in a period of 14 days from the date of receipt of this notice, we have been given "a green Iight" by our client to drag you to court at your own cost, detriment, further embarrassment and peril."