With hours left to the swearing in of President Yoweri Kaguta Museveni for his sixth term as the Head of State of Uganda, Matooke Republic has compiled some of the President's swearing in speeches over the years. President Museveni has been Uganda's President from 1986 to date. From promising to turn Uganda into a middle class country, ending corruption, increasing the salary of health workers, reducing the cost of fuel and electricity to solving the high unemployment rate, President Museveni's narrative over the years hasn't changed.
As Matooke Republic takes you down the memory lane, we begin with the 2011 swearing in speech. While swearing in on May 13, 2011 the President said that in spite of the initial scarce resources, the NRM government registered huge advances in the last 25 years.
"We now have 8 million children in the primary schools, 1.5 million children in the secondary schools, 120,000 students in the universities and 53,729 in tertiary institutions. In 1986, the comparable figures were: 2.5 million children in the primary schools, 190,000 children in the secondary schools, 5,000 students in the university and 27,205 in tertiary institutions. We only had one university. We now have 28 universities (both public and private). In a period of almost 90 years, between 1894 when the British colonized Uganda and 1986 when the NRM took over Government, we had only 28,000 telephone lines. We now have over 14 million telephone lines. I can continue to bring out the NRM achievements in every sector. However, these examples suffice to highlight this point" said President Museveni.
He added that the massive victory by the NRM in the February 2011 elections was a triumph of progress and even revolutionary ideology over reactionary ideology.
"It was a triumph of Uganda's patriotism over sectarianism and opportunism. We won overwhelming victory in all the regions of Uganda. Since creation, this is the first time Ugandans have coalesced into such a consensus. I would, therefore, call upon those who have been pushing sectarian ideas and pushing opportunism to join the national consensus instead of being desperate and embarking on disruptive schemes. Those disruptive schemes will be defeated just like the previous opportunistic schemes have been defeated," said President Museveni
President Museveni also said that Uganda was on the verge of becoming a middle income country by 2016.
"In order for Uganda to accelerate her speed to a middle income status, we need to resolve one issue. Just as you cannot build a house without a foundation (musingyi, oruhazo), you cannot build a modern economy without modern infrastructure. By this, we mean: electricity, roads, the railway, piped water, telephones, ICT network, media, as well as social infrastructure in the form of schools, colleges, health units, etc. The importance of these elements of infrastructure is two fold. Social infrastructure produces healthy, educated and skilled human resource. The economic infrastructure, on the other hand, is very useful for the economy because it lowers the costs of doing business in the economy and, therefore, enterprises become more profitable. This, in turn, attracts more enterprises to Uganda which create more jobs, widens the tax base, etc," said President Museveni.
He also promised to solve the issues of increased fuel prices.
"Regarding the current short term problems of increased fuel prices, we are looking at the option of buying in fuel bulk and also the option of approaching the Government of Southern Sudan. I am told that buying in bulk lowers prices. I am also told that fuel in Juba is cheaper. In fact, some of our people from West Nile are already using that fuel, especially diesel. I intend to approach the Government of Southern Sudan to see the possibilities. In the next 3 years, we shall be using our own fuel after the building of the Refinery is finished. We are also analyzing the price of fuel up to Eldoret. Is it all justified?," Said President Museveni
In regards to health, the President vowed to stop the theft of drugs in health centres and also promised to increase the salaries of health workers.
"On the health, we are continuing to crack down on the theft of drugs from health centres by health workers. In the medium term, we shall look at the question of salaries for doctors and health workers. Again, without interfering with the foundation activities, we will be happy to raise the salaries of health workers and other scientists," said Museveni.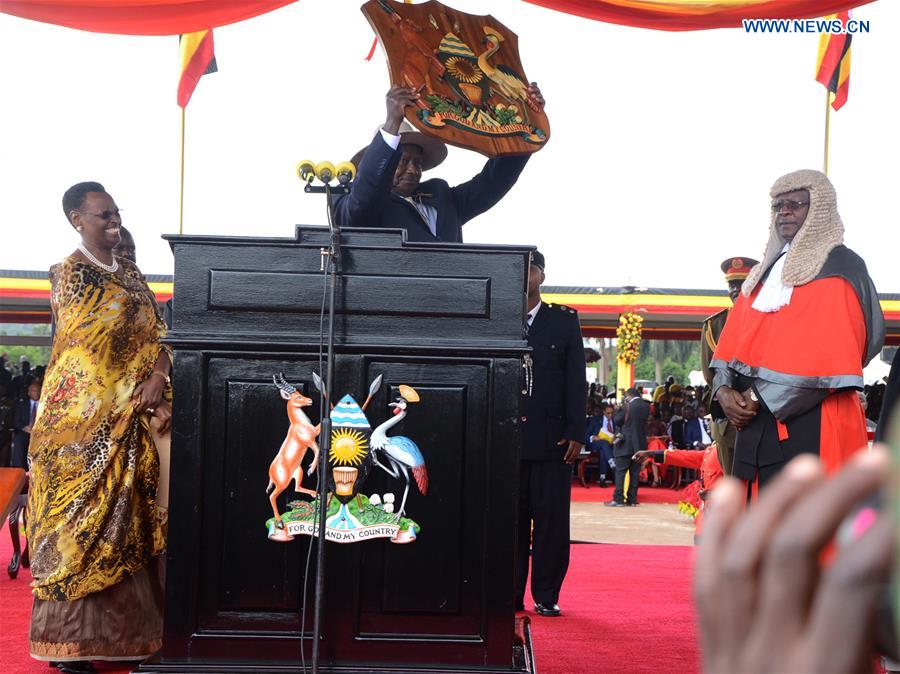 In 2016, President Museveni was sworn in for his fifth term as the head of state on May 13,2016. During his speech the President said that the depreciation of the shilling slowed down the country's march to becoming a middle income country.
"The NRM has been in power for the last 30 years and has brought Uganda from the abyss of insecurity and despair to now the threshold of becoming a middle-income country by 2020. We would, indeed, have already become a middle-income country if we had more decisively handled the issue of exports. Since GDP is calculated in dollars, the depreciation of the shilling slows down our march to the middle-income status. In the coming five years, we are going to aggressively handle this issue. We shall work hard to export more quantities (and of higher value) of commodities. Where we export unprocessed raw-materials, we get less value and create less jobs," said President Museveni.
President Museveni stated that once power becomes abundant and cheap, the pace of industrialization would eventually pick up.
"On the side of power, we are now remaining with two challenges ─ the high price of electricity per unit on already under construction include: Nyagak III 5.4MW, Nyamwamba 9MW, Muvumba 5.4MW, Achwa/Agago 83MW, etc.account of the high cost of money used in building the Bujagali dam and the need to build more transmission wires (lines) so that the electricity gets where it is required. The expanding and upgrading of the transmission lines is on-going and will continue. We also have options regarding the bringing down of the cost of Bujagali power. The other dams do not have that problem. The power from Nalubaale power station is now at 1.04US Cents, since the loan for constructing Nalubaale power station has been fully paid back.
That of Bujagali is at 11US cents. The challenge is to bring down the cost of power of Bujagali," stated the President.
He also pledged to provide electricity at the cost of 5 American cents per unit to manufacturers, starting with the ones of coffee value addition and textiles. President Museveni also stated that the country was working with Kenya to modernize the railway by building the Standard Gauge Railway that would bring the cost of transport for a 32 metric tonnes container to Mombasa from US dollars 3500 by road, to US dollars 1650 by railway and also save our roads from damage caused by the huge lorries carrying what should be ferried by the train.
He also said the biggest challenge agriculture was facing is cultural and historical and stated how Operation Creation Wealth was going to solve the problem.
"According to the census of both 2001 and 2014, about 68% of our homesteads are still in subsistence agriculture (only working for food but not working for money). Only 32% of the homesteads are in the money economy. Through Operation Wealth Creation, we are determined to change this. Coffee, fruit and/or tea seedlings will be given to all the homesteads with land of two acres and above. Our ideal model, as you know, is four acres. Two acres, however, can also do something. In some areas, they grow cocoa. Each home must have, at least, one acre of food crops (cassava, bananas, irish potatoes, rice etc).
As far as coffee is concerned, a tissue culture laboratory is going to be built at Kituuza so that we can multiply high quality, disease-free seedlings industrially and quickly. OWC must stop being everywhere and ending up being nowhere," stated President Museveni.
President Museveni said help would be rendered to homesteads with one acre or less.
"They must concentrate on, initially, the three cash-crops ─ coffee, fruits and tea. As time goes on, we shall get them to distribute chicken, dairy cattle and pigs. The homesteads with one acre or less, will be helped with poultry for eggs, mushroom growing, onions, pigs and zero-grazing dairy cattle. Every homestead must be involved in money making. We cannot accept spectators in this effort. Maintaining 68% of our homesteads in pre-capitalist modes of production is a wrong form of conservation. Let us conserve other assets such as wetlands, forests, national parks, etc. but not under development," said President Museveni.
He also pledged to fight corruption and the delay of decision making.
"Coming back to the economy, we must expunge two weaknesses ─ corruption by public officials and delay of decision-making. These two mistakes irritate the public and frustrate the investors. It is betraying the country. In this kisanja (term), I will directly deal with the weaknesses.While in the past I have relied on the accounting officers to do the needful as they are mandated by the constitution, this time I will act directly so as to discipline the Public Service as we disciplined the Army,"