Following the closure of Parliament for two weeks starting today Monday June 28 to give room for fumigation in the containment of the Coronavirus, the Leader of Opposition, Mathias Mpuuga has written to the Speaker of Parliament Rt.Hon. Jacob Oulanyah protesting the closure of the August House.

In a letter dated June 24, Mpuuga wrote: "The concern of my office with this communication is that it fell short of guiding members on how and where to conduct the business of Parliament during the closure of the premises. The mandate and duty of Parliament to the population has now been required to intervene in the situation like it is now."

Mpuuga suggested that even though some members and staff have tested positive of Covid-19, the business of Parliament can be conducted in another place or through digital platforms as provided by the Rules of Procedure.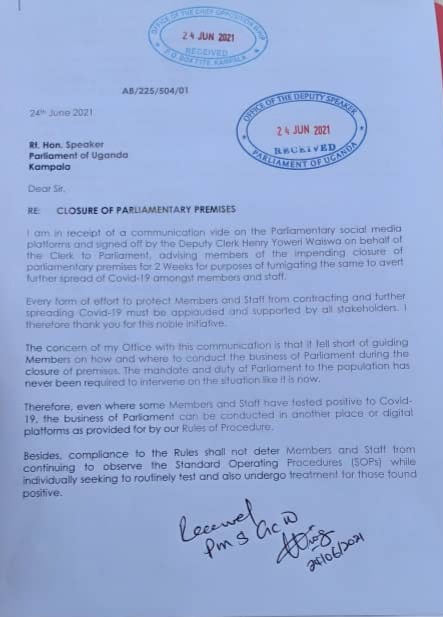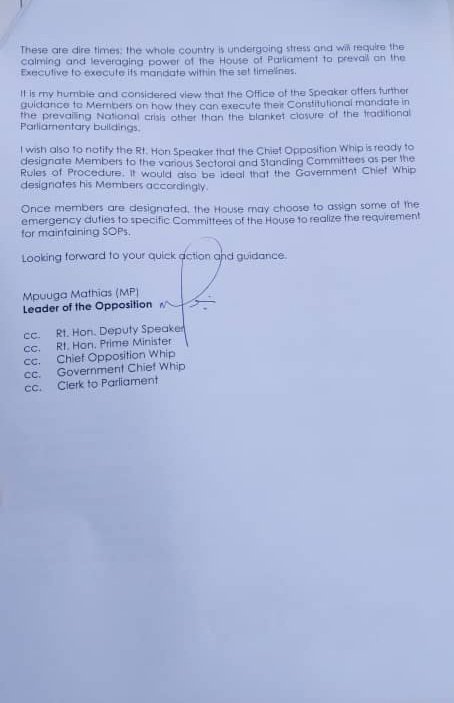 "Besides, compliance to the rules shall not deter members and staff from continuing to observe the standard operating procedures while individually seeking to routinely test and also undergo tests for those found positive," he wrote
Mpuuga also informed the speaker that the office of the Opposition Chief Whip is ready to designate members to the various sectorial and standing committees as per Rules of Procedures.
This comes at a time when the country is battling the second wave of a pandemic that has cumulatively killed more than 700 peopl