Developer of Covidex, the herbal drug used in treating covid19 Prof. Patrick Engeu Ogwang has applied for trademark recognition of his drug by Uganda Registration Services Bureau (URSB).
A trademark is a distinctive sign that identifies certain goods or services produced or provided by an individual or entity from those of other enterprises. The trademark holder has exclusive rights to prevent others from using the same in order to avoid confusing the public
According to the Uganda Gazette, the application has been made under reference number 2021/71772 and is dated June 28, 2021. In the application, Prof Ogwang lists his address as Akright, Entebbe Road Kampala.
If URSB goes ahead to grant him exclusive rights to the name, it means it will become illegal for anybody or entity to make any claim to the Covidex name.
According to URSB, any person or entity opposed to Prof Ogwang's claim to the Covidex name has a period of 60 days within which to oppose the application.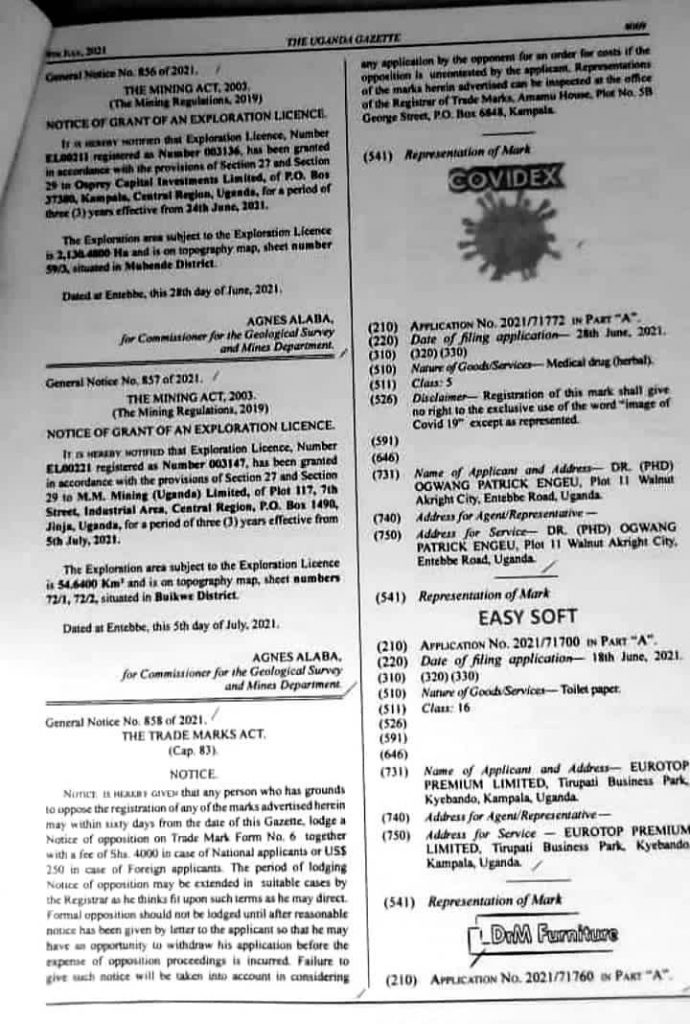 'The period of lodging the notice of opposition may be extended in suitable cases by the registrar of companies, as he thinks fit, upon such terms. (However) formal opposition should not be lodged until after reasonable notice has been given by the letter to the applicant so that he may have an opportunity to withdraw the application before the expense of opposition proceedings is incurred," URSB said in the notice.
Last week, Mbarara University management came out and said that it will block Jena Herbals Uganda Limited, the manufacturer of Covidex from taking sole ownership of the product.
Prof Celestino Obua, the Mbarara University vice chancellor said COVIDEX was developed by the university under Pharm-Biotechnology and Traditional Medicine Centre.
However, he said the university is open to sharing the ownership of Covidex with Prof Patrick Ogwang since he's one of them (a lecturer at the university).