The national basketball team the Silverbacks which is currently participating at the 2021 AfroBasket championship in Kigali, Rwanda is at a risk of being thrown out of their residential Hotel over unpaid accommodation charges.
In a letter from Federation Uganda Basketball Association (FUBA) President Nasser Sserunjogi to the Ministry of Education and Sports and National Council of Sports, Sserunjogi reveals that since landing in Kigala, the team has been accomadated in a hotel on credit as they promised the management that money was coming.
However, they have run short of excuses since they were given a deadline of Sunday, August 29 to clear or risk to be thrown out and also disqualified from the tournament.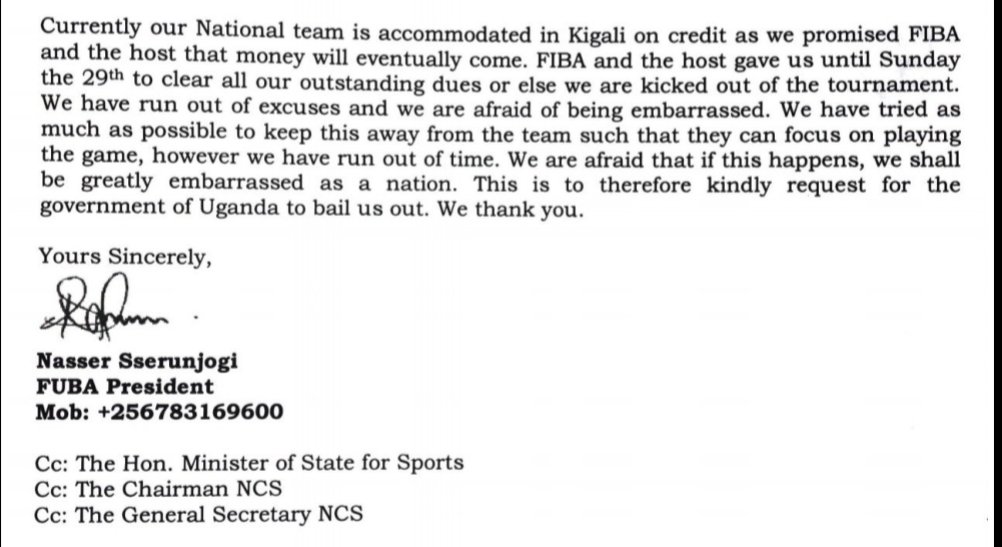 "We have tried as much as possible to keep the situation away from the team such that they can focus on playing the game, however we have run out of time.
We are afraid if this happens, we shall be embrassed as a nation. We request the government of Uganda to bail us out," said Sserunjogi in a letter.
This week, the Silveback have a decider against Nigeria to confirm their quarter finals spot.
Before the team left for Kigali, Government through the National Council of Sports today handed over a tune of $93,506 (about Shs330 million) to FUBA as funding to Silverbacks for preparation and participation. Nonetheless, FUBA's budget for tournament was about Shs500m as they had arrears to clear from the qualification stage.