Kampala City Council Authority says the building that collapsed in Kisenyi claiming the lives of seven people and leaving others wounded on Sunday was being constructed illegally.
"According to our records, construction works at this site did not have the requisite planning and building permissions as required by the law and were therefore illegal," a statement released by KCCA yesterday reads in part.
The building belonged to property developer Haruna Ssentongo, a brother to another developer Hamis Kiggundu.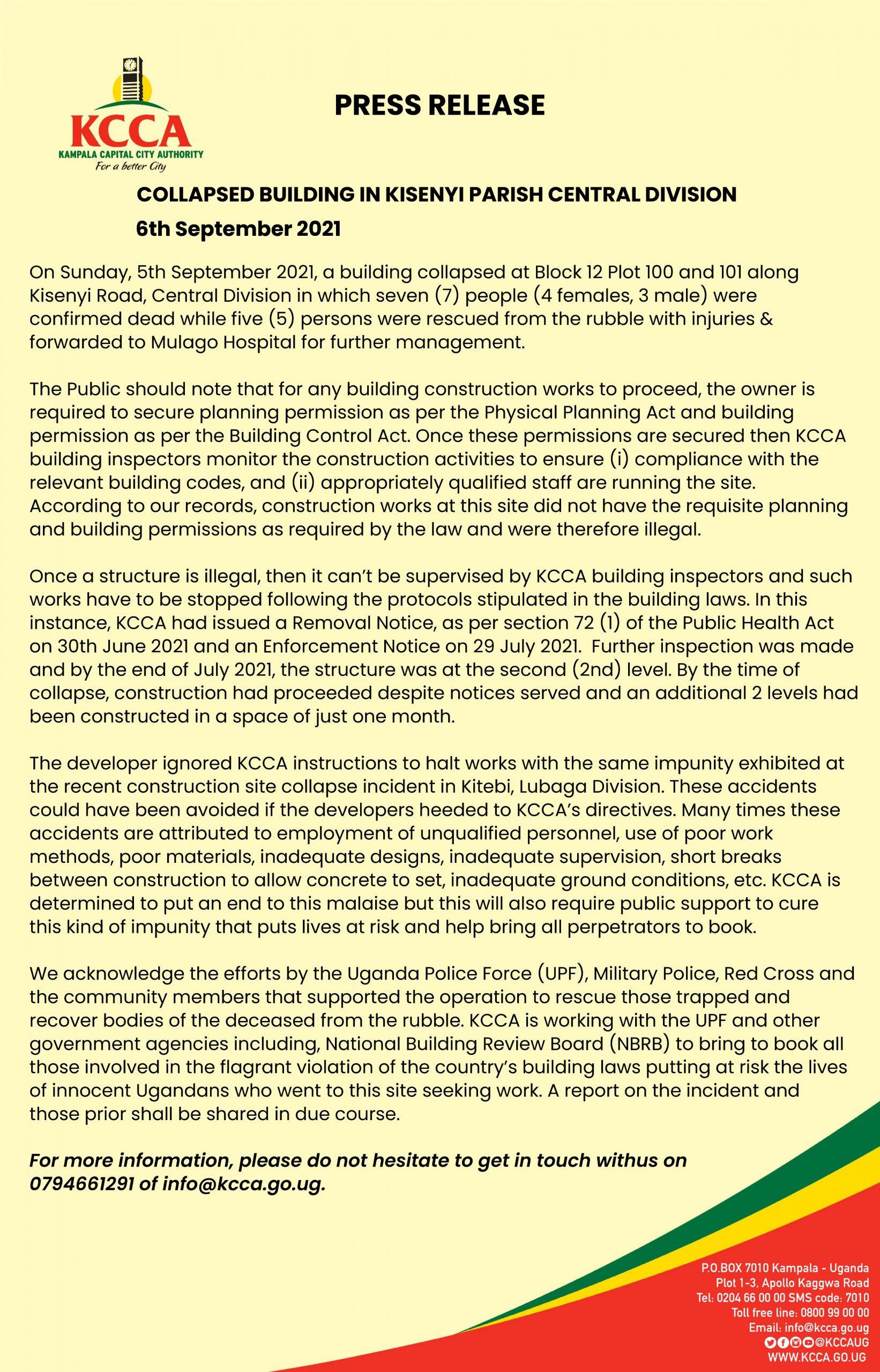 "The public should note that for any building construction works to proceed, the owner is required to secure planning permission as per the Physical Planning Act and building permission as per the Building Control Act. Once these permissions are secured, then KCCA building inspectors monitor the construction activities to ensure compliance with the relevant building codes and that appropriately qualified staff are running the site," the statement reads.
KCCA says it didn't supervise works on the building because it was illegal and that it had notified the owners to stop construction.
"KCCA had issued a Removal Notice, as per section 72 (1) of the Public Health Act on 30th June 2021 and an Enforcement Notice on 29th July 2021. Further inspection was made and by the end of July 2021, the structure was at the second level. By the time of the collapse, construction had proceeded despite notices served and an additional two levels had been constructed in a space of just one month," the city authority notes.
"The developer ignored KCCA instructions to halt works with the same impunity exhibited at the recent construction site collapse incident in Kitebi, Lubaga Division. These accidents could have been avoided if the developers heeded to KCCA's directives."
"Many times these accidents are attributed to employment of unqualified personnel, use of poor work methods, poor materials, inadequate designs, inadequate supervision, short breaks between construction to allow concrete to set, inadequate ground conditions etc."
The city authority says they are determined to put an end to the "malaise" of collapsing buildings and urges public support "to cure the impunity that puts lives at risk."