Business mogul Sudhir Ruparelia is in celebratory mood as his legal ping pong with Bank of Uganda over Crane Bank is being put to rest.
In the matter that was before the Supreme Court, Crane Bank Limited (In Receivership), being represented by BoU has withdrawn an appeal against Sudhir and his Meera Investments.
"Take notice that the Appellant does not intend further to prosecute the appeal," a notice signed by the Supreme Court Registrar on September 15 reads.
The appellant will also pay the costs of the appeal.
This development follows another win for Sudhir in early August when the Supreme Court dismissed an application in which Bank of Uganda had sought permission to amend the memorandum and record of appeal before hearing the appeal in the Crane Bank case.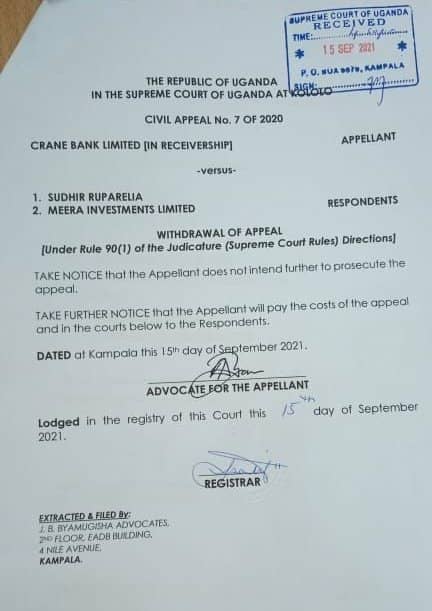 The genesis of the matter started in 2016, when BoU took over Crane Bank citing undercapitalisation and it was acquired by DFCU in January 2017. BoU then filed a case on behalf of Crane Bank (in receivership) against Crane Bank Vice Chairman Sudhir Ruparelia and Meera Investments for allegedly syphoning money out of the bank. BoU lost the case as it was thrown out on grounds that a bank in receivership cannot sue or be sued according to the Financial Institutions Act (2004). BoU filed an appeal in the Court of Appeal which it lost.
The Central Bank then ran to the Supreme Court and filed an appeal and went further to file an application to substitute Crane Bank Limited (in receivership) with Crane Bank Limited (in liquidation), saying it is still a licensed financial institution under resolution and the Financial Institutions Act.
BoU's application was denied with the Supreme Court Justices noting that the amendment of the appeal by substituting of the parties or entities will fundamentally affect the appeal even before it is heard, adding that granting BoU's application would in effect introduce a new party to the appeal, which was non-existent at the time of filing the suit.
As proceeding with the case would mean Crane Bank (In Receivership) would lose, they have withdrawn the appeal and agreed to pay costs to Sudhir.