The Uganda Homes Expo is back again with an ever-present promise to create a platform for producers, sellers, and consumers to tap into property investment in Uganda, share experience and lessons learned by others in their quest for homeownership, and infrastructural development.
The Uganda Homes Expo is the region's biggest homes show, bringing a wealth of expertise harnessed for 10 years. Targeting the entire African region with a major focus on East & Central Africa, the Uganda Homes Expo is an experiential platform that creates a level ground for real estate players to converge with a ready market for land, homes, financial advice, and general real estate information.
This year's expo focuses on sustainable housing. In respect to the uncertain COVID19 times, the expo takes on a new form as a Hybrid event in which we will have both physical and virtual participants. Nevertheless, we have still done our homework, listened and acted on feedback and this year we are giving it a twist with new content, new leading experts, and new exhibitors, to give clients and exhibitors a richer experience.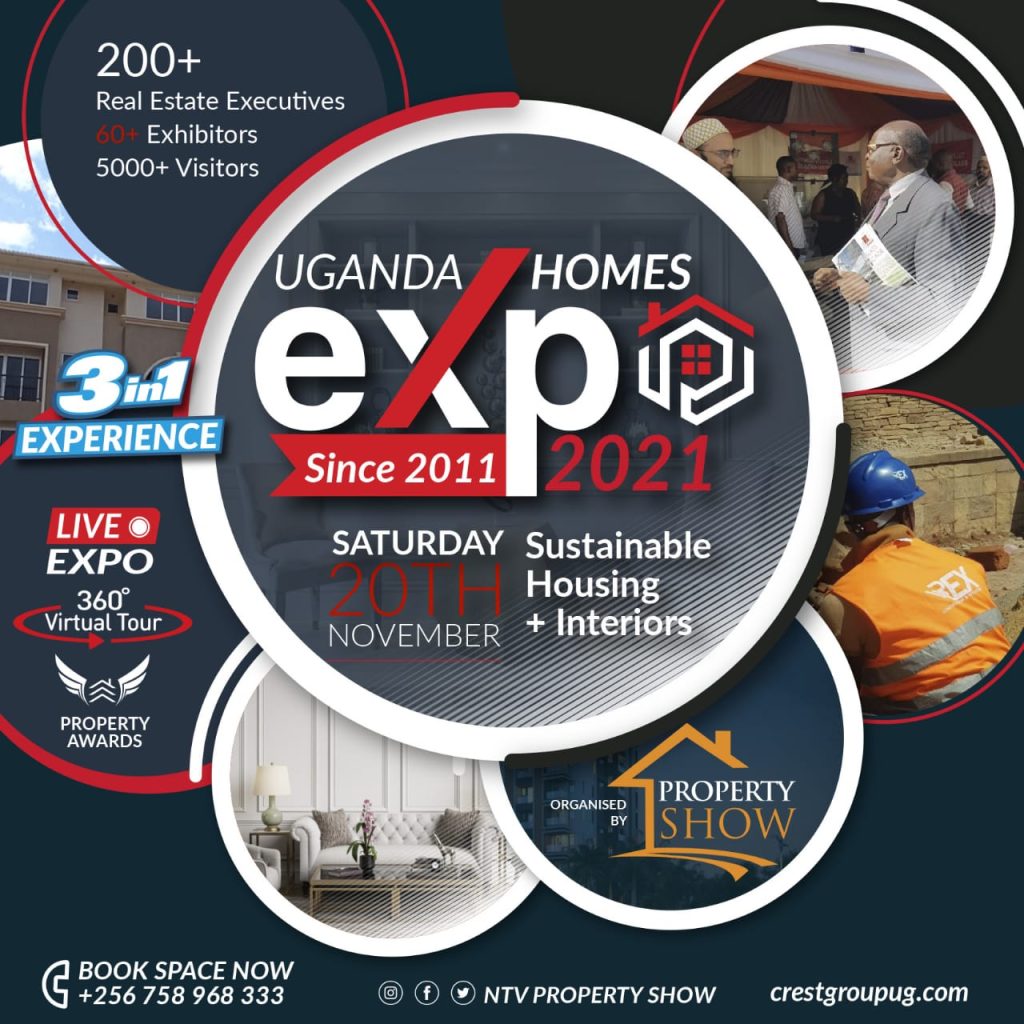 The Expo this time around offers a 3-in-1 experience that includes a live expo, virtual tours and the Property Awards.
Exhibitors also have a unique platform to enhance their corporate profile and expand their market by showcasing their brand, products and services to a much larger receptive audience of potential customers and decision-makers.
Networking sessions will give way to important networking opportunities to forge new partnerships, explore investment opportunities, gain valuable insights, and exchange contact details with key persons across the spectrum.
The Expo team plans to give you an opportunity to initiate new business relationships, identify upcoming opportunities and achieve face-to-face contact that overcrowded tradeshows cannot deliver.
The Uganda Homes Expo will offer insight on development trends and opportunities in Uganda's real estate market through an open communication platform.
The Inaugural Property Awards
The first-ever National Property awards 2021 will be held this month. these awards are dedicated to the full spectrum of the commercial property industry honouring the companies and entities of our Industry. The awards celebrate the highest levels of achievement by companies operating in all sectors of the property and real estate industry.
A national property award is the highest national mark of excellence. To register for the expo you can visit the property show website at www.propertyshowug.com.