A man from Kazo, Nansana, Kampala is nursing injuries after his wife poured boiling water on him for giving her Shs6,000 to buy basic needs at home.
In the video shared on a local TV official Facebook page, the victim John Mulindwa is shown reporting his wife Sumayah Nansubuga to the local council officials for pouring boiling water on him.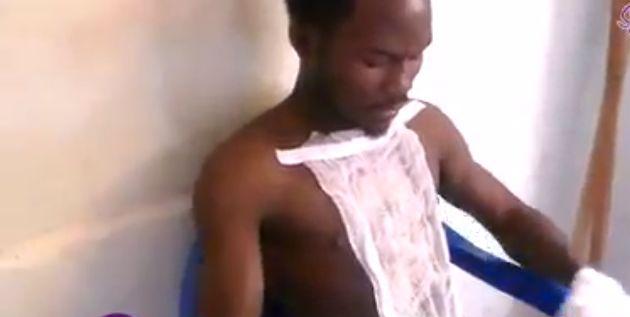 "I went to work and got only Shs6,000 so I decided to take it to my wife so that she plans for it instead of enjoying it alone, but I was very surprised after giving her the money she carried a saucepan of boiling water and poured it on me, then I was like why to pour boiling water on me after giving you money and she said 'I can even pour on you again," narrated Mulindwa.
Mulindwa who seemed to be tired of his wife's characters said that this is not the first time his wife is doing such an act citing that there was even a time she poured hot water on his private parts.
"This woman has been torturing me for a long time, there was even a day she poured boiling water on my manhood," Mulindwa cried.
Mulindwa is now suffering from severe burns on his stomach and surrounding parts as a result.