Joseph Cwinya-ai on Saturday emerged as the winner of the 2021 Tusker Malt Uganda Golf Open (Amateur event) after he finished atop a huge field of players during the final round of the event's 80th staging held at the Entebbe Club's par-71 golf course.
After four rounds of play, Cwinya-ai, a handicap 2 Ugandan golfer returned an overall 3 over par 287 becoming the first Ugandan since Ronald Otile (2018) to host the event's winners accolade. He relieves Kenyan John Lejirma of the title. Lejirma had relieved fellow countrymate Daniel Nduva of the title last year.
In the opening round (Wednesday), Cwinya-ai tied for 11th with six others off 4 over par 75. He and those in the bracket were five strokes from day one leader Reagan Joseph Akena.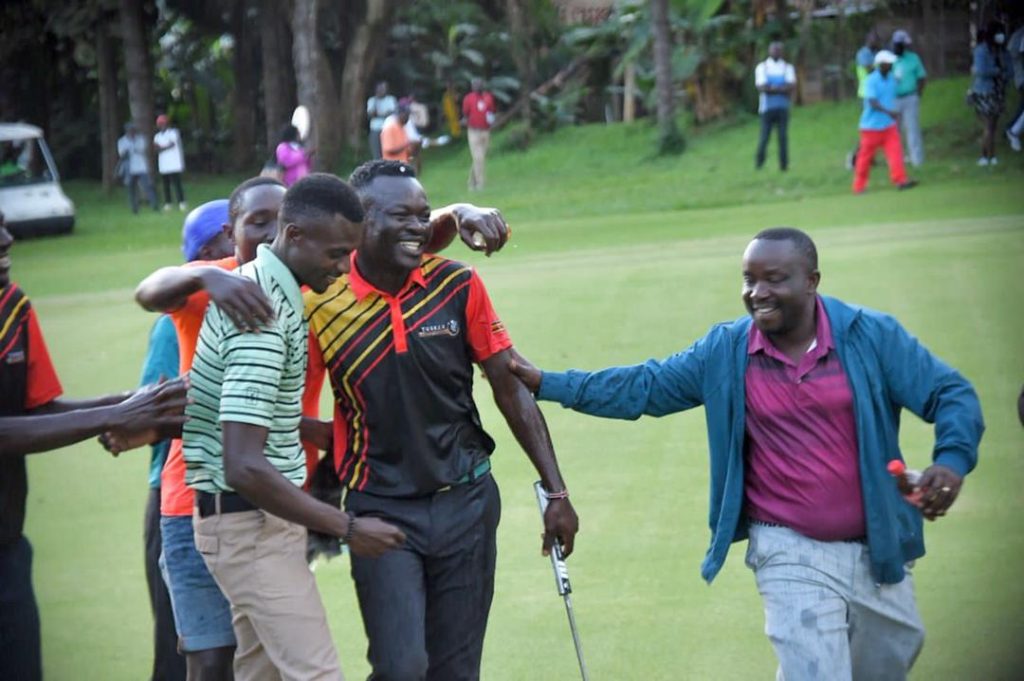 On day two, Cwinya-ai moved to ninth (tie with 3 others) off 6 over par 148 and by then he and those in the bracket were four strokes from the summit.
In Friday's fifth round, Cwinya-ai made sure that he features in Saturday's pressure group as he finished fourth with 6 over par 219, four strokes from the summit. Lejirma who stormed summit in the third round, Zambia's Chanda Bwembya, and Uganda's Marvin Kibirige also featured in the pressure group that attracted a socially distanced gallery.
On Saturday, Cwinya-ai was on top of his game, shooting 3 under par 68, earning him an overall 3 over par 287 to enable him to claim his maiden Uganda Amateur Golf Open title.
Lejirma had a bit slow game on day four, shooting 4 over par 75 to finish second with an overall score of 6 over par 290 as Cwinya-ai lead by three strokes at the end of proceedings.
Uganda's Tom Jingo capped the podium with 7 over par 291 but tied with Zambia's Chanda Bwembya.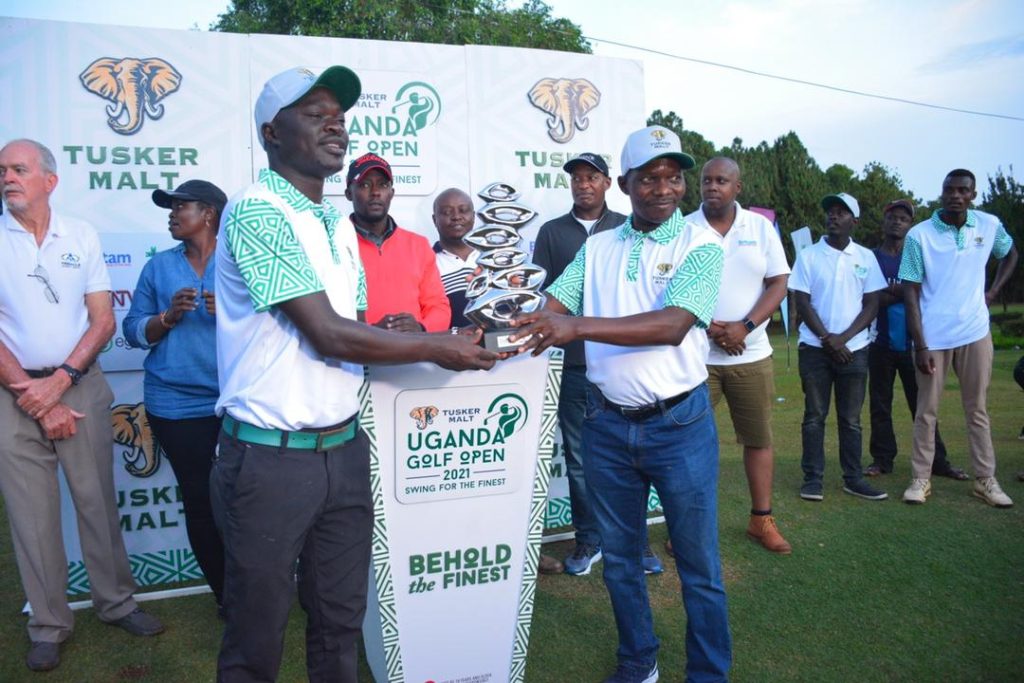 Marvin Kibirige (292), Bulhan Matovu (293) James Koto (294), Denis Asaba (295), Ibrahim Aliga (296), and Elton Thembo (298) ensured that Uganda dominates the leaderboard.
Ugandan golfers will seek to get hold of all the accolades when professionals tee-off at their event running between 1st to 4th December.
Tusker Malt Lager is the championship lead sponsor and its partners are; Absa Bank Uganda, Abubaker Technical Services & General Supplies, Britam Uganda, Case Medical Services, Egis Road Operation Uganda, Liquid Intelligent Technologies, National Council Of Sports, NTV Uganda, Pepsi, Pinnacle Security Limited and Uganda Tourism Board.
Uganda Golf Open – Amateur Open Final Leaderboard
1. Joseph Cwinya-ai (UG) – 287 gross
2. John Lejirma (KE) – 290
T3. Tom Jingo (UG) – 291
Chanda Bwembya (ZM)
5. Marvin Kibirige (UG) – 292
6. Bulhan Matovu (UG) – 293
7. James Koto (UG) – 294
8. Denis Asaba (UG) – 295
9. Ibrahim Aliga (UG) – 296
10. Elton Thembo (UG) – 298
Uganda Amateur Golf Open past 10 winners
2021: Joseph Cwinya-ai (Uganda)
2020: John Lejirma (Kenya)
2019: Daniel Nduva (Kenya)
2018: Ronald Otile (Uganda)
2017: Ronald Rugumayo (Uganda)
2016: Ronald Otile (Uganda)
2015: Ronald Otile (Uganda)
2014: Willy Deus Kitata (Uganda)
2013: Peter Ssendawula (Uganda)
2012: Philip Kasozi (Uganda)
Summary of 2021 Uganda Open schedule
Ladies Open: 18th to 20th November
Seniors Open: 19th to 20th November
Par-3 Competition: 24th November
Amateur Open: 24th to 27th November
Pro-Am: 30th November
Professional Open: 1st to 4th December
President's Shield: 4th December
2021 Uganda Golf Open winners
LADIES: Irene Nakalembe (Uganda)
SENIORS: John Muchiri (Uganda)
AMATEURS: Joseph Cwinya-ai (Uganda).