It seems it is no longer rumor that local singer Bruno Kiggundu better known as Bruno K is in love with 'Mwasuze Mutya' host Faridah Nakazibwe as the singer has taken his affair with the NTV star to another level after he decided to record a love song for her.
Bruno has released a song titled 'Leero Mbaga' (It's a wedding day) and it seemed to be a special dedication to Nakazibwe, since it features only Nakazibwe's photos.
In the audio, Bruno K promises to marry Nakazibwe and vows to spend the rest of his life with the NTV star.
"A lot was said about us but I want to say that today is a wedding day, I am going to make you my wife and I want to spend the rest of my life with you," Bruno K sings.
He went ahead and praised her saying that she is better than all sexy ladies in Kampala and that is why he is going to wed her.
It is alleged that Bruno and Nakazibwe, have been secretly dating for a while and seem to be ready to make their fling a public affair.
That is the reason why he made her the focus of this song.
Bruno has since released a visual for 'Leero Mbaga' which features only Nakazibwe's photos.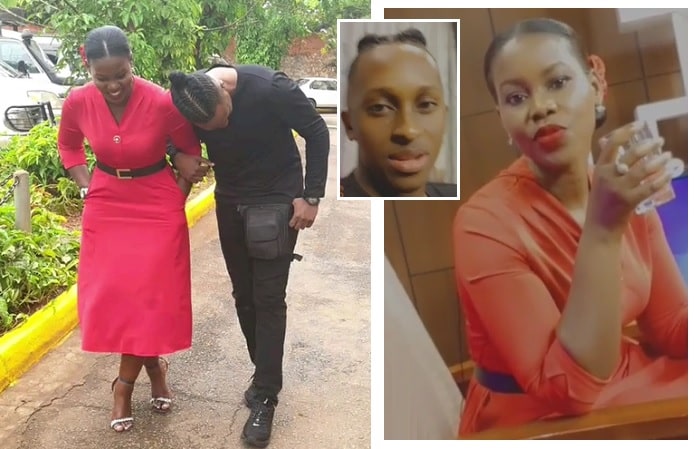 Rumor about Nakazibwe and Bruno K dating has been circulating for a long time and this was fueled recently when he decided to allow her to take over the responsibility of raising his daughter Briella Kiggundu, following the death of Bruno's baby mama Rachael Nasasira.
Nakazibwe is single and has been alone ever since she parted with her former hubby, Dr Umar Ssali, who had snatched her from NRM top executive Moses Kigongo.
The NTV presenter has daughters from her first marriage with city engineer Dan Nankunda, though they separated and she got married to Ssali at a private wedding that was held in Dubai, UAE.
However, a few years down the road their marriage hit rock bottom after they developed irreconcilable marital woes which saw them part ways before they had produced a tot.
Since her separation with Ssali, the NTV star has not been known to officially date any other man save for the rumors about her and Bruno.