The festive season is on and Speke Resort and Commonwealth Resort in Munyonyo has planned a magical holiday programme full of sumptuous feasts and festive activities.
Famously tagged as 12 Days of Christmas, the resort has discounted its services on both meals and accommodation as a way of spreading the holiday cheer.
The award winning five-star lakeside resort promises nothing short of peace and tranquility for those who intend to call home during this festive season. The accommodation rates have been discounted in two bands, one between 12th to 23rd December and 26th December to 8th January starting at $139 and another band for Christmas Eve and Christmas Day starting at $179.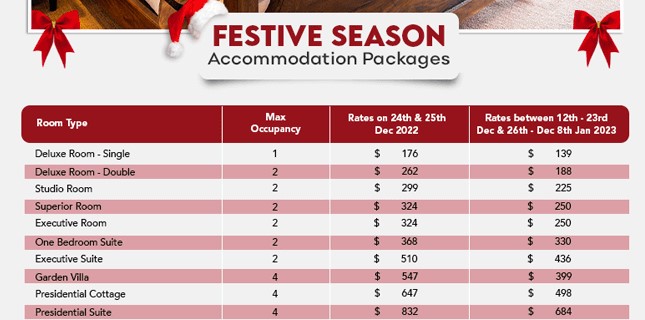 The rates are full board inclusive of breakfast, lunch and dinner, but drinks are not included. A mattress will be provided for an extra person sharing the room on full board basis for $68 during the first band and $105 during the second band.
For those dining at the resort, the festivities begin with the Christmas Eve dinner at the Nyanja/Lakes Terrace Restaurant for Shs120,000 for adults and Shs60,000 for children under 14. There will be live entertainment by a band as you enjoy your dinner.
The Christmas Day fete has been dubbed "Around the World Christmas Lunch Buffet" and it will be hosted by the poolside. Adults will part with Shs200,000 while children below 14 will pay Shs100,000. There will be live band entertainment, a dedicated kids' play area, face painting, balloon art, Santa and his Grotto, Christmas Crackers, candy for kids and complimentary glass of bubbly for the adults.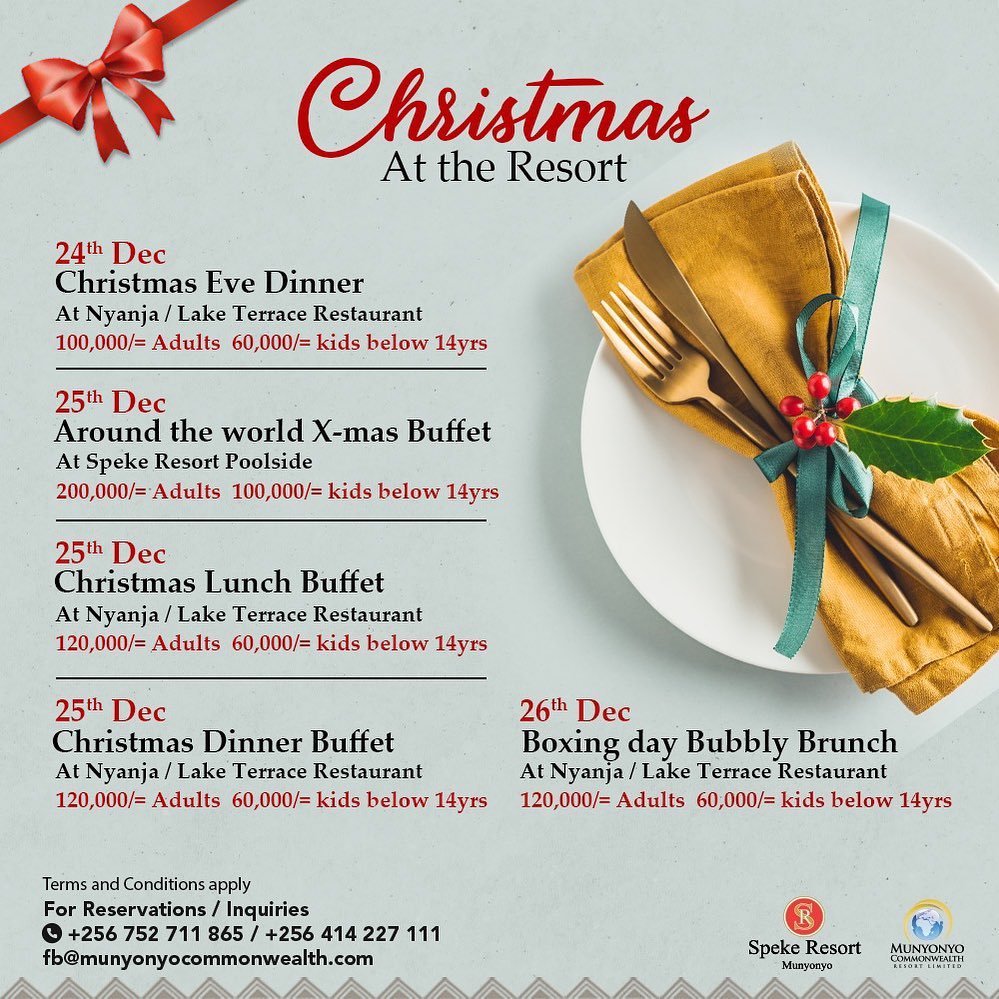 The Nyanja/Lakes Restaurant will host the Christmas Dinner with a buffet accompanied by a live band. There will also be screening of a kids' movie. The charges for the dinner are Shs100,000 for adults and Shs60,000 for children below the age of 14.
The Nyanja/Lakes Restaurant will also host a Boxing Day Bubbly Brunch with live band entertainment. Adults will pay Shs120,000 while children under 14 will pay Shs60,000.
Tis indeed the season to be jolly and make merry.