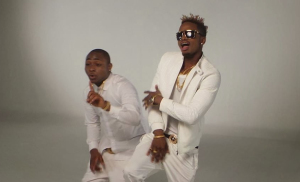 Matooke Republic broke the story of how singer Davido stormed out of a Kampala hangout because the DJ had played his collabo Number One, with Tanzanian star Diamond Platnumz.
The bone of contention was because Diamond scooped three awards at the recent Channel O Awards thanks to the Number One song and he didn't acknowledge Davido whose remix helped the song become a continental hit.
To make matters worse, Tanzanian Idris beat Nigerian Tayo to the Big Brother Africa Hotshots $300,000 prize money, so Davido had no love for Tanzanians.
But instead of fighting fire with fire, Diamond Platnumz decided to preach unity.
"Instead of artistes being role models and agents of unity, bringing our countries together to build a strong, prosperous peaceful continent, Africa. We are the first to instigate hate and regionalism. In this manner are we really building Africa? What is our fate? Continuing divide and rule inherited from the colonial era…" he posted on his Facebook wall, on return from a show he had in the USA over the weekend.